Maine Mass Timber Commercialization Center
The Maine Mass Timber Commercialization Center
The Maine Mass Timber Commercialization Center (MMTCC) brings together industrial partners, trade organizations, construction firms, architects, and other stakeholders in the region to revitalize and diversify Maine's forest-based economy by bringing innovative mass timber manufacturing to the State of Maine. The emergence of this new innovation-based industry cluster will result in positive economic impacts to both local and regional economies, particularly in Maine's rural communities.
Formed with funding and support from: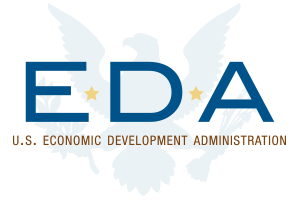 Formalize & support efforts of the Maine Mass Timber Advisory Committee
The MMTAC is a previously informal/ad hoc group of University scientists and economists, CLT producers, sawmills, the Maine Forest Products Council, engineers, architects, general contractors, and others.

The MMTAC was expanded to include code officials and consultants from critical research areas including fire, acoustics, and hygrothermal behavior. Members organized site visits for potential manufacturers and investors, gave seminars, offered testimony, as well as facilitated local "town hall" type meetings to further educate the public on mass timber as well as the group's efforts to revitalize Maine's forest products industry. As of July 2020, membership included 54 individuals representing 37 organizations/companies, primarily based in Maine and/or New England.

The MMTAC coordinated and sponsored a road mapping conference to better identify research and policy needs affecting mass timber construction in the Northeastern U.S. as well as CLT manufacturing in Maine. This event, titled The Maine Mass Timber Event was held in October 2018 with 165 attendees.

The MMTAC investigated avenues for State of Maine support for a CLT demonstration project for Maine. A successful CLT demonstration project in Maine may be the single most important driver of this technology locally and serve as a de-risking tool for investors, designers, and manufacturers considering siting a plant in Maine. Download the report on the GEM Factory of the Future conceptual design for a 90,000 ft² CLT addition to the UMaine Composites Center here.

MMTAC members worked with the Maine Uniform Building & Energy Code (MUBEC) to promote Maine's early adoption of the 2021 IBC Tall Wood Building Code provisions. As of June 2021, MUBEC's Codes & Standards committee was working to gain final
approval and codify this effort.
Create an Attraction Package laying out the Business Case for CLT Manufacturing in Maine
Download the full version (26.2 MB), or the abridged version (1.4 MB) This was designed to help attract a mass timber manufacturer to invest and locate in Maine. The Business Attraction Package presents several possible locations for a CLT plant within the state, based on criteria such as: site characteristics, environmental issues, utilities, transportation access, labor profile, business climate, quality of life, public services, and State and Federal incentive and tax exemption/credit programs applicable to CLT manufacturing facilities.
Develop products to make Maine more competitive
There are 10 species in the SPF-S lumber grouping, seven of which grow in Maine. As SPF-S is already approved for use in CLT (PRG-320 Grade V4), from a mechanical standpoint, all 10 species can be used today for CLT manufacture. However, what was unknown was the bondline durability of these species when used in a cross-oriented layup. A study at UMaine was conducted to investigate the durability of all 10 species to the PRG-320 requirements. All 10 species passed the durability tests of PRG-320, meaning all are viable as CLT feedstock today, both from a mechanical and durability standpoint – download the report here. A separately funded study has qualified two new "E" grades (E21 and E21M1) of CLT using machine stress rated (MSR) lumber from Maine, one of which has among the highest CLT values, again making Maine more attractive to CLT producers. –download the report here.
Life Cycle Analysis (LCA) of CLT construction systems
Coordinate execution of a Life Cycle Analysis (LCA) of CLT construction systems, which the wood design community in North America agreed is a need to demonstrate the environmental benefits of using CLT. An LCA was conducted on the proposed 90,000 ft² CLT addition to the UMaine Composites Center. This LCA will potentially assist in fundraising for the new addition as well as add to the much-needed database of LCAs on CLT construction in North America. CLT Lab Addition Life-Cycle Carbon and Energy Report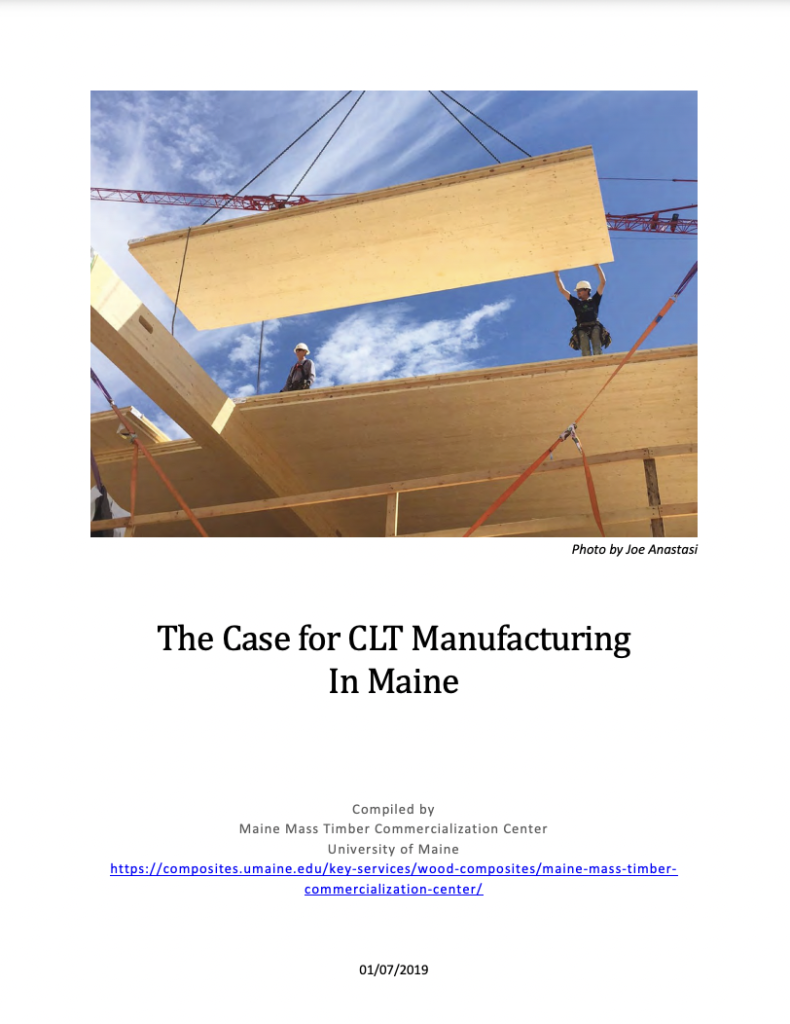 The Case for CLT Manufacturing In Maine
Building Life-Cycle Carbon and Operational Energy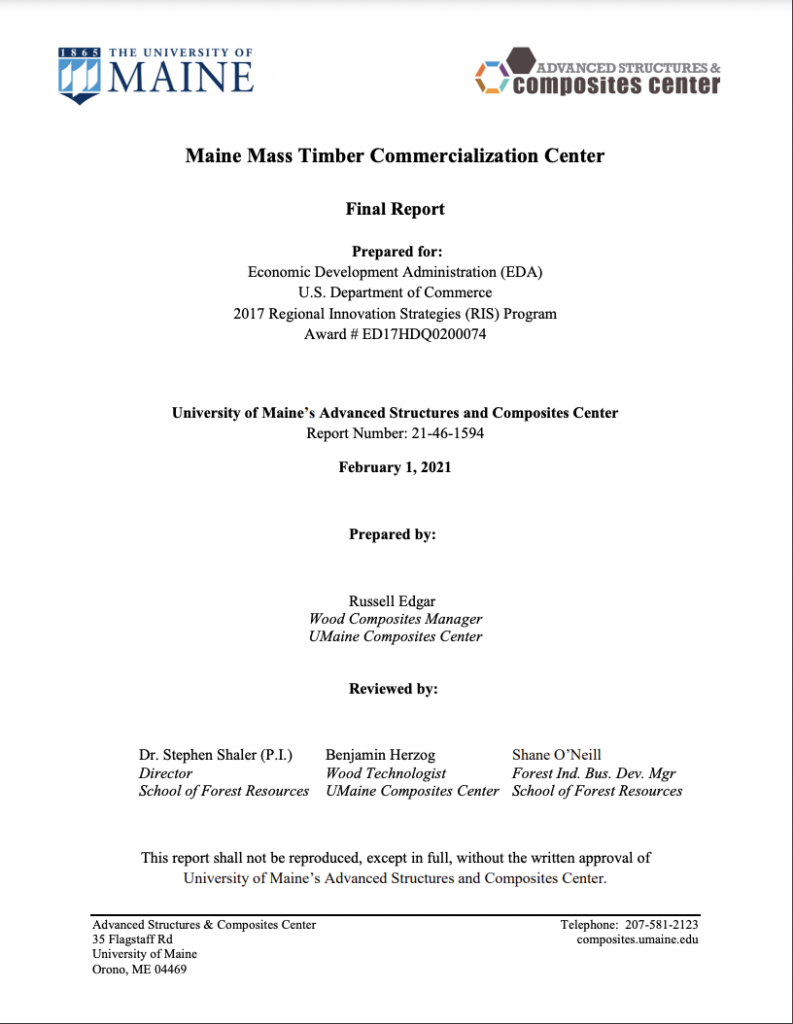 MMTCC
Final Report
CLT
Demonstration Building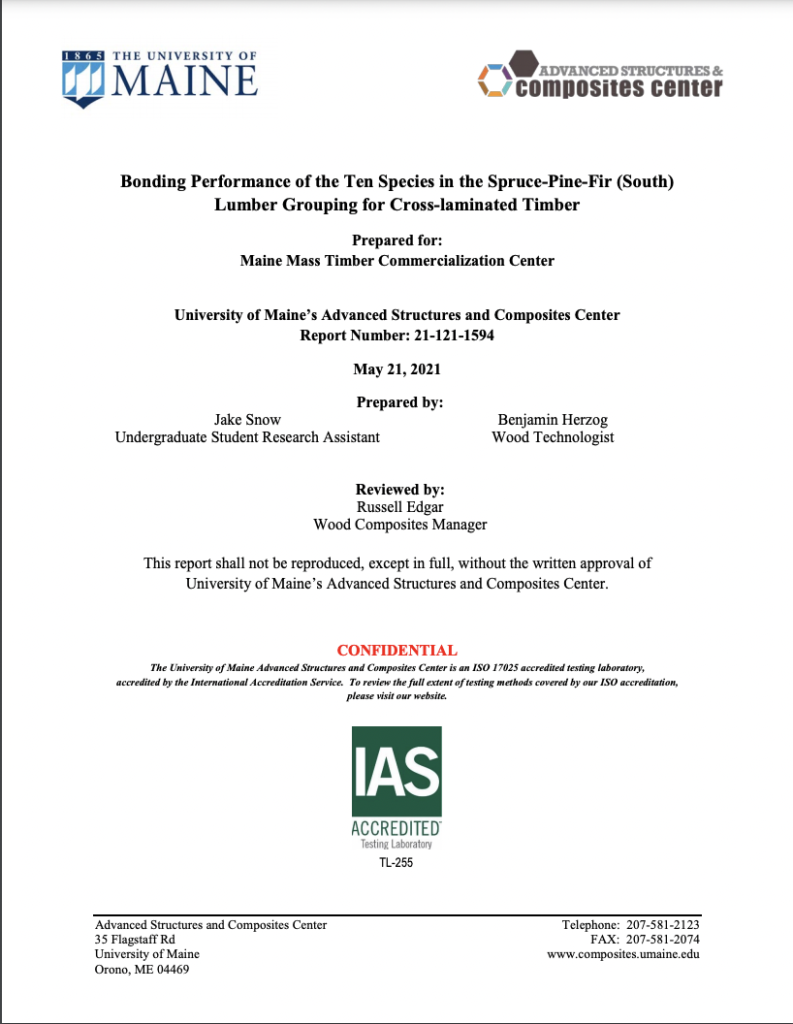 SPFS Bonding
Performance
Qualifications for
New CLT Grades