VolturnUS 1:8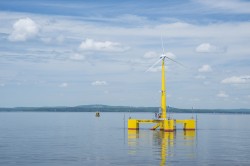 VolturnUS 1:8 is a 65-foot-tall floating turbine prototype that is 1:8th the scale of a 6-megawatt (MW), 450-foot rotor diameter design. VolturnUS 1:8 the first grid-connected offshore wind turbine in the Americas. 
Videos of VolturnUS 1:8 Performance:
VolturnUS 1:8 is a 65-foot-tall floating wind turbine prototype that is 1:8th the geometric scale of a 6-megawatt (MW), approximately 450-foot rotor diameter design. The patent-pending VolturnUS 1:8, was designed and built at UMaine, assembled at Cianbro's facility in Brewer, successfully towed nearly 30 miles from Brewer by a Maine Maritime Academy tugboat, and anchored for testing off the coast of Castine, Maine in 90 ft of water. On June 13, 2013, the turbine was energized and began delivering electricity through an undersea cable to the Central Maine Power electricity grid, making VolturnUS 1:8 the first grid-connected offshore wind turbine in the Americas.
The innovative VolturnUS design utilizes a concrete semisubmersible floating hull and a composite materials tower designed to reduce both capital and Operation & Maintenance costs, and to allow local manufacturing throughout the US and the World.  The VolturnUS technology is the culmination of more than seven years of collaborative research and development conducted by the University of Maine-led DeepCwind Consortium.  The DeepCwind Consortium is a unique public-private research partnership funded by the Department of Energy, the National Science Foundation-Partners for Innovation, Maine Technology Institute, the State of Maine, and the University of Maine, and includes more than 30 industry partners such as Cianbro and Maine Maritime Academy.
| | |
| --- | --- |
| | |
---
The VolturnUS 1:8 behaves as a floating laboratory with over 50 sensors onboard measuring wind, waves, current, temperature, accelerations, strains, turbine performance and mooring line loads.   Data acquired during the past year's deployment off Castine validated design assumptions and performance, and have been used to further optimize UMaine's VolturnUS system. The program goal when the technology is scaled up is to reduce the cost of offshore wind to compete favorably with other forms of electricity generation.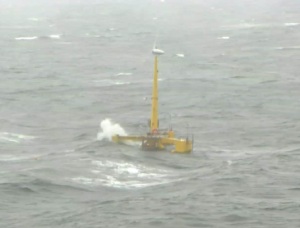 As anticipated for a 1:8 scale unit, over the past year, the VolturnUS 1:8 has experienced numerous storm events representative of design environmental conditions prescribed by the American Bureau of Shipping (ABS) Guide for Building and Classing Floating Offshore Wind Turbines, 2013.  For example, Table 1 shows measured data from an event experienced on March 1, 2014 between 1-2 pm, and compares that to a 50-year  ABS Design Load Case (DLC), called DLC 1.6.  Also shown in Table 1 is the predicted behavior from a coupled aeroelastic/hydrodynamic simulation of the full-scale VolturnUS 10-miles offshore Maine subjected to the specified American Bureau of Shipping (ABS) DLC 1.6 conditions. Please note the proximity of the measured March 1 event data and the VolturnUS 1:8 response to the ABS DLC 1.6 50-year prescribed condition.    During this major storm event on March 1, the maximum-recorded wave height and peak period were within 1% and 7 %, respectively of the ABS DLC 1.6 prescribed scaled conditions.  The resulting max nacelle acceleration and max heel angle, were within 14-16% of what a 6 MW VolturnUS system would experience under DLC 1.6, 10-miles offshore.
During the deployment, the prototype performed as expected in both operation and ABS extreme Design Load Cases (DLC) as follows:
Over 110 operational load cases similar to ABS DLC 1,2,
Over 18 extreme load cases equivalent to ABS DLC 1.6 and 6.1, representing 50-year Return Period Events
One event equivalent to the ABS survival load case, representing a 500-year Return Period Event.
Based on observations over the past year, the 1:8 VolturnUS exhibited responses in line with coupled model design predictions and provides confidence moving forward with design and construction of a full-scale floating offshore wind turbine utilizing the VolturnUS platform technology.
In all 119 events described above, the VolturnUS floating platform performed markedly well.  It exhibited accelerations very close to the predicted results, less than 0.17g for the whole year under all operational, 50-year scaled, and 500-year scaled return period events.