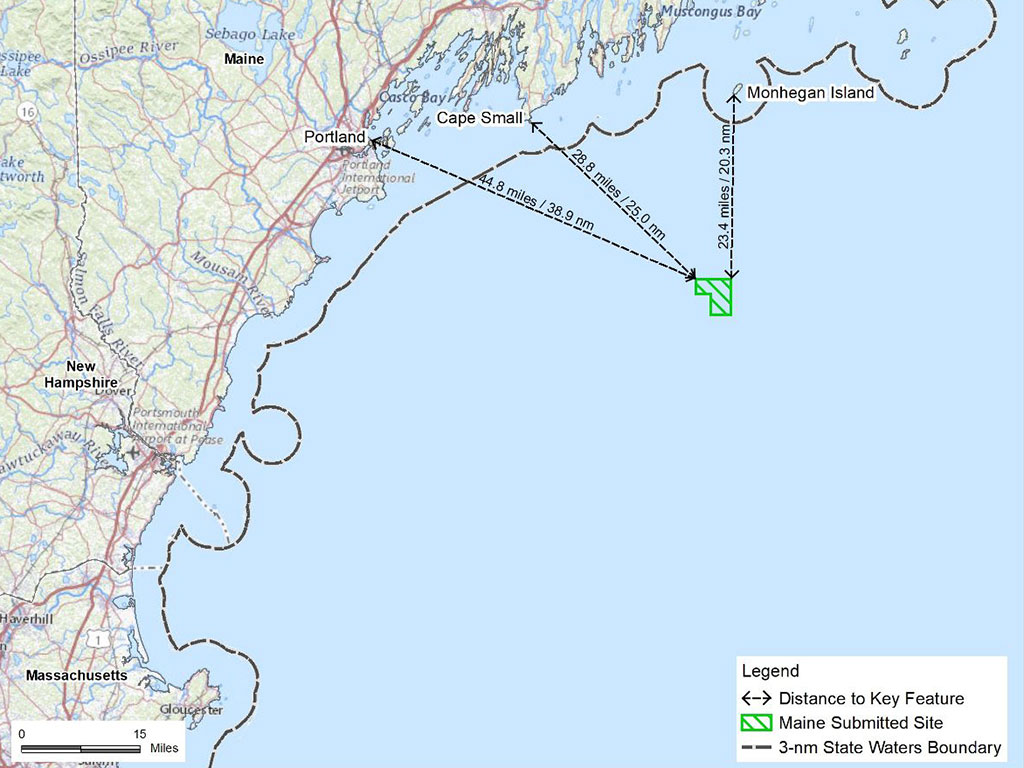 Maine submits application for nation's first floating offshore wind farm
Maine submits application for nation's first floating offshore wind farm
AJOT Insights | By Stas Margaronis
October 6th, 2021
On October 1st, Maine's Governor's Energy Office (GEO) submitted an application to the Bureau of Ocean Energy Management (BOEM) to lease a 15.2-square-mile area nearly 30 miles offshore in the Gulf of Maine for the nation's first floating offshore wind research site in federal waters.

Dan Burgess, Director of the Governor's Energy Office explained the importance of the floating wind farm project to Maine:

"As demand for offshore wind energy increases, Maine is uniquely positioned to be a global leader in floating offshore wind research, technology, and innovation. The abundant renewable energy potential in the Gulf of Maine is important for Maine's long-term targets to transition to 100 percent clean energy, reduce greenhouse gas emissions and grow our economy."

The GEO announcement stated that the State of Maine "hopes to deploy a small-scale research array of 12 or fewer wind turbines on innovative floating hulls designed at the University of Maine. This project will "advance the University of Maine's patented technology and will foster leading research into how floating offshore wind interacts with Maine's marine environment, fishing industry, shipping and navigation routes, and more."

Maine Governor Janet Mills noted: "Maine is uniquely prepared to create good-paying jobs across the state and reduce our crippling dependence on fossil fuels through the responsible development of offshore wind technology … This small-scale research site 30 miles off the coast will become home to innovative technology developed here in Maine … Fundamentally, I believe that offshore wind and Maine's fishing industry can not only coexist, but can help us build a stronger economy and a brighter, more sustainable future for Maine people."
Fishing Industry Opposition

The announcement noted that in July in "response to concerns raised by Maine fisherman and to reflect the Administration's priority of locating offshore wind in Federal waters, Governor Mills signed additional legislation, LD 1619, prohibiting new offshore wind projects in State waters, which extend three miles from shore.

This legislation also established an offshore wind research consortium, which will include members of Maine's fishing industry, marine scientists, offshore wind industry experts, and others to oversee research priorities for the array."

Senator Mark Lawrence, Senate Chair of the Maine Legislature's Joint Standing Committee on Energy, Utilities and Technology said: "This project is the culmination of work done to address the concerns of Maine fisherman while keeping our eye on new energy sources, and I look forward to seeing it through."

Kate Dempsey, State Director for The Maine Nature Conservancy noted: "Responsible offshore wind development requires good science… The State's research array will help us understand how we can take advantage of this promising new technology while minimizing impacts on the marine environment and resource users, including Maine fishermen."

According to a July 28th Reuters report, opposition from commercial fishing interests has delayed the deployment of offshore wind farms on the Atlantic Coast and now the Biden administration is seeking to compensate fishermen for their losses:

"The Biden administration is considering ways to ensure the U.S. commercial fishing industry is paid for any losses it incurs from the planned expansion of offshore wind power in the Atlantic Ocean, according to state and federal officials involved in the matter.

Discussions between state and federal officials, which participants described as being at a very early stage, are aimed at addressing the top threat to President Joe Biden's efforts to grow offshore wind – a centerpiece of his clean energy agenda to fight climate change.

Commercial fishing fleets have vehemently opposed offshore wind projects, labeling them a significant threat to catches of crucial stocks including scallops, clams, squid and lobsters, by interfering with navigation and altering ecosystems.

That opposition has contributed to delays in permitting the nation's first commercial-scale projects and is among the reasons the U.S. has lagged Europe in offshore wind development. Minimizing those conflicts could speed the lengthy federal permitting process as Biden seeks to add 30 gigawatts of offshore wind to the nation's waters in just nine years."

– Dr Habib Dagher: Floating Offshore Wind Farm Pioneer, University of Maine

For more than a decade, the announcement noted: "the University of Maine has pioneered design and development of floating concrete hull technology for offshore wind turbines called VolturnUS, with the goal of creating a vibrant Maine-based floating offshore wind industry. Floating platforms are considered essential technology for deep-water offshore wind energy."

New England Aqua Ventus expects to launch the first U.S. floating wind turbine into the Gulf of Maine by 2023-2024, according to Dr. Habib Dagher, founding executive director of the University of Maine's Advanced Structures and Composites Center (ASCC).

Dagher, who spoke about the project to the Propeller Club of Northern California (PCNC) in July, described what he called a "you have to crawl before you can walk" strategy.

Dagher said New England Aqua Ventus will begin with a demonstration project to mount an approximately 11 MW (megawatts) wind turbine to a floating semisubmersible concrete hull designed by the Advanced Structures and Composites Center at the University of Maine.

The design has been approved by the American Bureau of Shipping (ABS).

The patented VolturnUS hull technology has been demonstrated in independent reports to reduce the cost of offshore wind. The turbine is held in position by three marine mooring lines securely anchored to the seabed, and connected by subsea cable to the Maine power grid, Dagher said.

Under Dagher's direction the University of Maine launched a small prototype floating wind turbine that was tested in the Gulf of Maine in 2013.

New England Aqua Ventus has been financed by a $150 million investment from the U.S. Department of Energy, Mitsubishi Corporation and RWE, a German energy company.

Dagher said that following the 11 MW demonstration project, installing 5 GW (gigawatts) of offshore wind power is the goal of New England Aqua Ventus. It is in keeping with President Biden's goal of deploying 30 GW of offshore wind by 2030.

This goal is achievable because, aside from Maine, new wind farms are also being deployed off the coasts of New York, New Jersey and Massachusetts.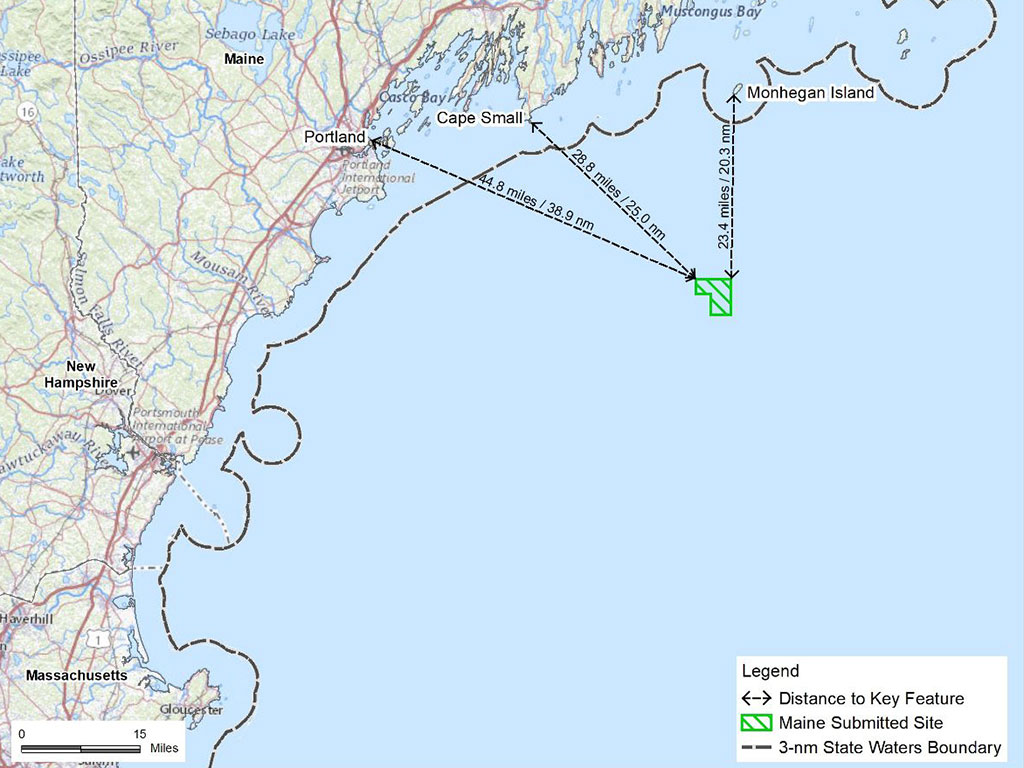 Concrete Catamarans

Dagher noted that the offshore wind turbines will float on four pre-stressed concrete foundations that will utilize the same buoyancy dynamics in the ocean as a catamaran.

The advantage of the concrete foundations is that the design will allow for construction at U.S. shipyards by U.S. workers and not require sourcing the foundations from an offshore shipbuilder.

The University of Maine, under Dagher's direction, chose a so-called 'spar submersible' design which Dagher believes is the simplest floating wind turbine design to build and maintain.

He said the concrete foundations can be launched from a fabrication yard into 25 feet of water, which makes the process adaptable for construction in many shallow draft locations.

Once the 'vessel' is launched, the tower and turbines can be added and the complete installation floated out to sea for anchorage and power generation.

Dagher says the long-term goal of offshore wind developers is to generate power at 6 cents per kwh (kilowatts per hour). He admits "this is an aggressive goal but it is in keeping with global projections of wind developers."
Human Resources Challenges

Dagher was asked whether the United States has the human resources in terms of engineers, electrical workers, shipbuilders, construction workers along with the capacity of cable laying vessels and offshore supply vessels to support a major offshore mobilization, his reply was: "No."

Dagher warned that a major effort will need to be made in community colleges, high schools and in vocational training classes to educate and train thousands of new offshore wind workers who will be paid far more than current service industry jobs but will require far more education and training.
Maine Stakeholders' React

Maine stakeholders cited by the Maine Governor Energy Office announcement responded as follows:

Chris Wissemann, CEO of Diamond Offshore Wind, one of the partners of New England Aqua Ventus, LLC:
"New England Aqua Ventus is pleased to partner with the State of Maine to develop the Research Array and utilize the innovative floating platform technology designed at the University of Maine … We're really excited to be able to help build a new clean industry for Maine, create jobs and expand the skilled workforce here. These floating platforms are designed to be built locally, which will provide career pathways for young people and grow the economy."

Dana Connors, President & CEO Maine State Chamber of Commerce:
"The federal filing is an important step in what has been a thoughtful and balanced approach on offshore wind by the Governor and the Governor's Energy Office. Offshore wind creates an enormous opportunity for Maine's economy and marine businesses to grow, create thousands of jobs, and generate millions of dollars of investment into our state."

Grant Provost, Business Agent for Ironworkers Local 7:
"Ironworkers Local 7 is proud to be part of advancing the state's renewable energy future. Maine has the opportunity to lead the way with floating offshore wind while creating new economic opportunities."
Maine submits application for nation's first floating offshore wind farm
American Journal of Transportation