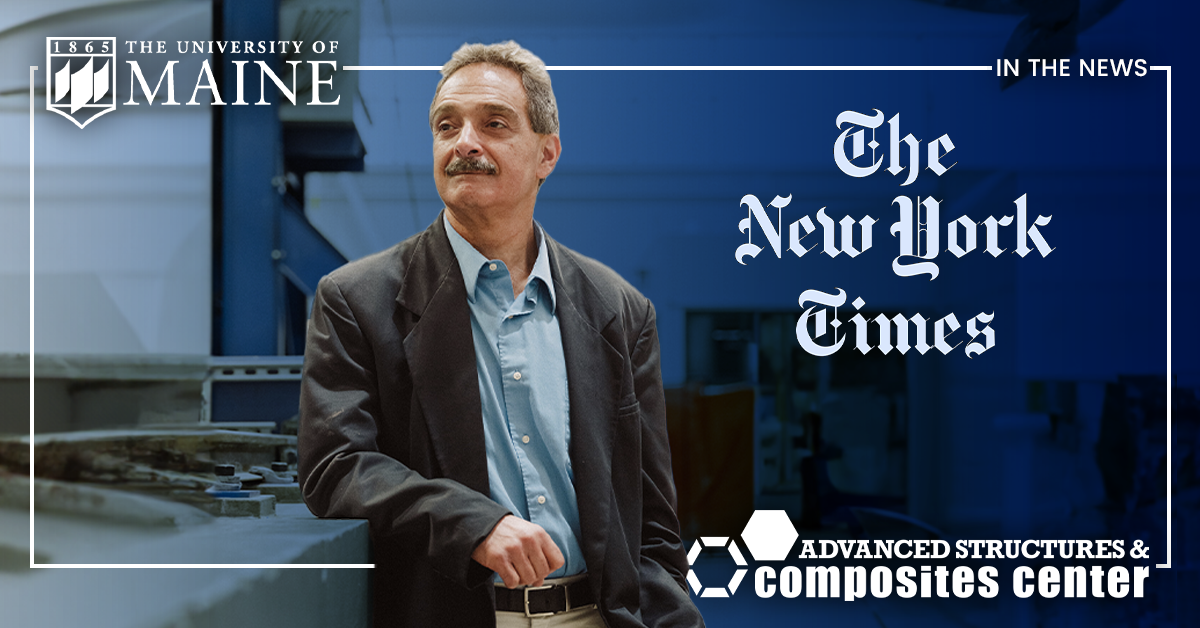 UMaine's Dr. Habib Dagher, Featured in NYT for Breakthrough in Floating Wind Turbine Technology
The New York Times highlights the pioneering work of the Advanced Structures and Composites Center at the University of Maine, led by Dr. Habib Dagher, in advancing the clean energy transition through floating offshore wind. For more than 15 years, the center has developed breakthrough technologies, such as VolturnUS 1:8, revolutionizing renewable energy. These breakthroughs pave the way for the deployment of football field-sized turbine blades and deploying them miles offshore, harnessing powerful winds to accelerate Maine's transition to renewables.
Floating Offshore wind energy presents Maine with the opportunity for job creation and economic growth, investments in supply chain and port infrastructure, and a source of sustainable energy to aid in achieving the state's ambitious objectives for clean energy and addressing climate change. By harnessing renewable floating offshore wind energy, Maine can decrease its dependence on imported fossil fuels, which currently results in an annual expenditure of almost $6 billion for the state.
Despite the potential to significantly reduce fossil fuel reliance and work to mitigate the climate crises, the project faces challenges. The article outlines local opposition from groups and residents concerned about developing Sears Island, a proposed turbine launch site.
Critics argue that to advance the clean energy shift, some landscapes may need to be repurposed, sparking debates between environmental conservation and renewable energy advancement.
"All of us would like to think that we can have renewable energy with zero impact on the environment — as you know, it's not possible, right?," Dagher remarks. "So our goal, and our challenge, is, how do we minimize impact on the environment as we embark on this transformational energy system?"
The clean energy transition encounters logistical, political, and economic barriers, including supply chain disruptions, labor shortages, power grid limitations, and complex regulations. In support of the mission, and a clean energy future, the Biden administration has provided substantial subsidies to promote clean energy in the face of these challenges.
To tackle these challenges, the ASCC is on a mission to develop, not only the technology, but the workforce though educational programs for K-12 students, such as the Matthew R Simmons Windstorm Challenge, offering a clean energy curriculum and aSTEM carnival for students throughout the state of Maine for free. A clean energy future involves investing in technology as well as our future workforce.
As clean energy momentum grows globally, overcoming these barriers is crucial to swiftly achieve a sustainable future, bridging the gap between technological progress and community concerns is imperative.