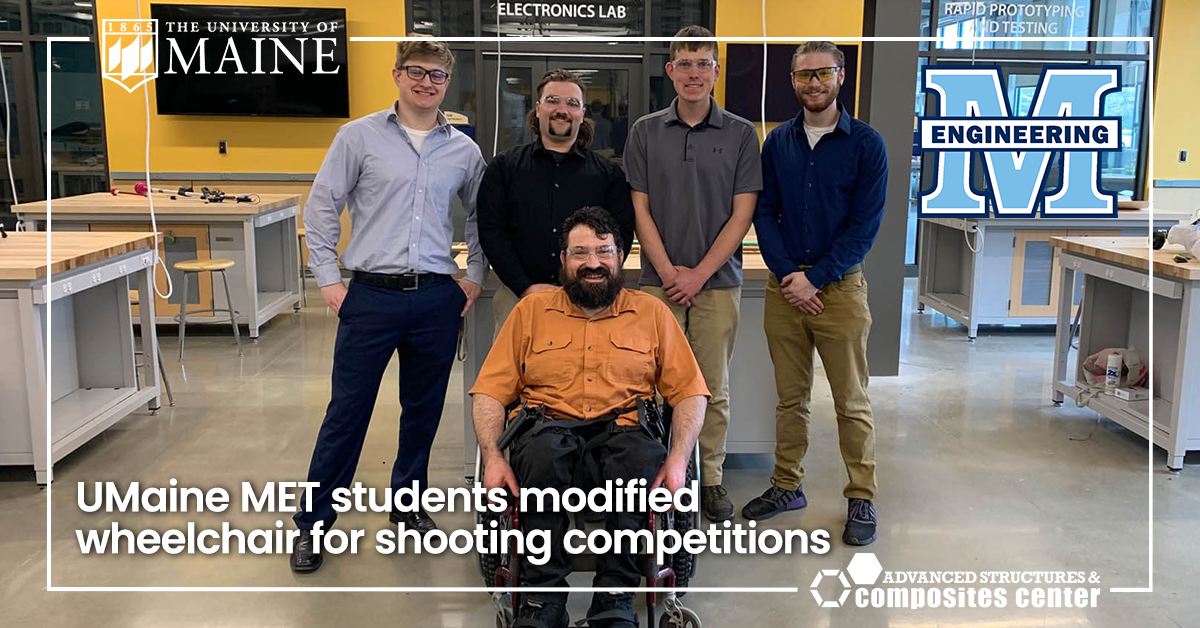 UMaine MET students modified a wheelchair for shooting competitions
The University of Maine's Mechanical Engineering Technology (MET) program took on a challenge presented by athlete and activist Enock Glidden. Glidden sought assistance from the MET capstone class to modify his wheelchair for shooting competitions.
The team of students reached out to community partners for support. The Advanced Structures and Composites Center (ASCC) donated water jet cutting services, which proved fabricating precise components for Glidden's wheelchair modifications. T.Rex Arms provided holsters, Bangor Steel supplied materials, and Rose Bike in Orono contributed specialized wheelchair wheels.
UMaine MET alumna Kim Lawton connected Glidden with the program, and ASCC Faculty & Associated Professor, Keith Berube didn't hesitate to include the project in the capstone lineup. Four students, Conor Stevens, Alexander Hyde, James Terrill, and Hunter Quirrion, teamed up to take on this exciting challenge and collaborated with Glidden to identify the necessary adaptations to enhance his wheelchair's capabilities. The challenges included creating a magnetic footplate, a holster, a backrest for improved shooting posture, a lever arm propulsion system, and better tires for rough terrain.
The capstone class is a year-long project that all MET students must complete, which offers real-world projects to choose from, ranging from 3D printing to robotic traps. Glidden's project stood out as an opportunity for not just important engineering work but community outreach.
The students met Glidden in person to integrate the new components into his wheelchair. Seeing Glidden's positive response and satisfaction with the modifications was an immensely rewarding moment for the young engineers. Glidden was impressed by the professionalism and care they exhibited.
"A lot of things came out of it that other people might use: the bigger tires, the pad behind my back, they made really good side guards that I wanted my entire life, the magnets on my feet plate. Most of the modifications did exactly what they wanted, and I'll keep using them," said Glidden (UMaine News).
The MET capstone project with Glidden showcased the students' engineering prowess but also demonstrated the positive impact of collaboration and community outreach. With the support of partners like the ASCC providing water jet cutting services and Rose Bike helping with sturdy wheelchair wheels, the students were able to create innovative solutions to enhance Glidden's adaptive shooting experience while making an impact in the Orono community. The project has left a lasting impression on the students, offering them valuable memories and enhancing their job prospects with the real-world experience gained in this exceptional enterprise.
This is only one example of how the ASCC aims to assist students with a variety of projects. To read more about what services the ASCC provides to students, please visit https://composites.umaine.edu/student-experiences/