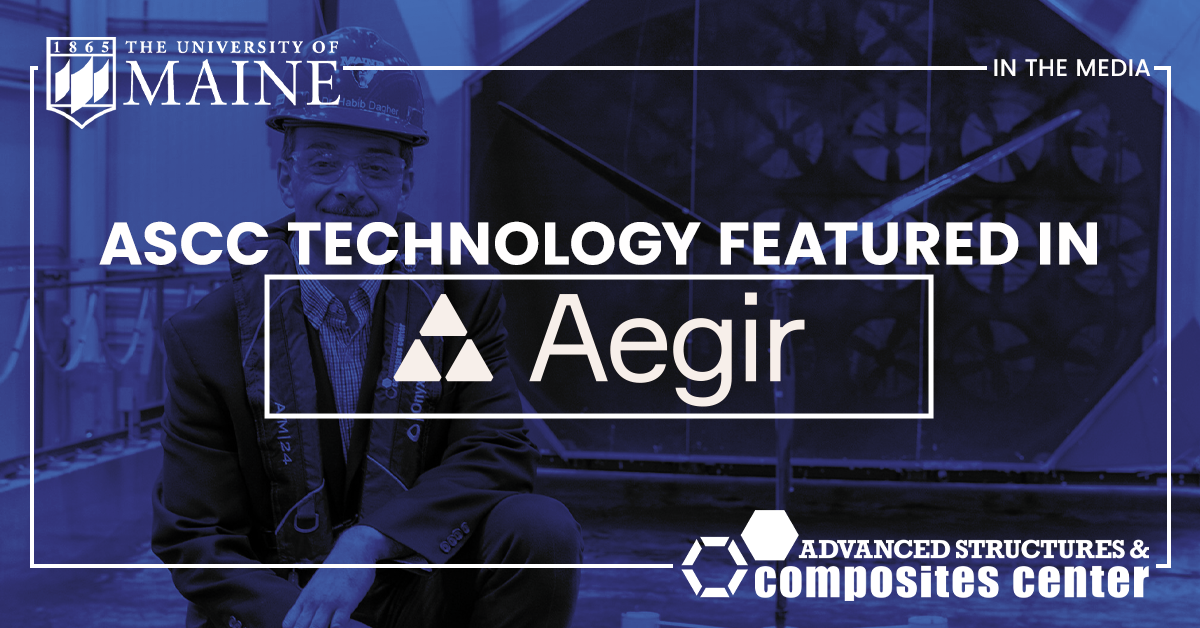 ASCC technology featured in Aegir Insights
The ASCC's founding executive director, Dr. Habib Dagher, and UMaine VolturnUS & VolturnUS+ Technologies were featured in Aegir Insights: Long-awaited gigascale US floating wind play weighs anchor for the Maine-stream.
Read the article here.
The University of Maine Advanced Structures & Composites Center (ASCC) is an industry leader of the U.S. floating offshore wind industry. On July 27, Governor Janet Mills passed a landmark bill that mandates 3GW of offshore wind be deployed and functioning by 2040, establishing Maine as the nation's hub for offshore wind energy.
The Aegir article offers a brief breakdown of VolturnUS, VolturnUS+ Technologies, as well as the up-and-coming New England Aqua Ventus (NEAV) project development, and what this means for the state of Maine, and the United States.
"I think, after all this time, the Gulf of Maine is going to see a lot of activity take shape quickly here in the next couple years," says Dr. Habib Dagher, "The stars appear to be aligning right now and a lot of elements are falling into place. It feels very much like a turning point. But there is still a huge amount of work to be done, not least building a first port facility of this magnitude and scale to help our industry progress forward."
"We need to use all the experience we have and make sure we plan today to try to move this industry forward in the best way tomorrow." says Dagher.
The ASCC has been leading the development of Floating Offshore Wind for 15 years. Read here to learn more about the ASCC's Ocean Engineering & Energy team and the development of ocean engineering technologies.
Interested in Floating Offshore Wind? The ASCC is hosting the 2023 American Floating Offshore Wind Technical Summit (AFloat 2023) on September 25-27 in Portland, Maine. Registration is open, register today!

Contact: Amy Blanchard amy.i.blanchard@maine.edu