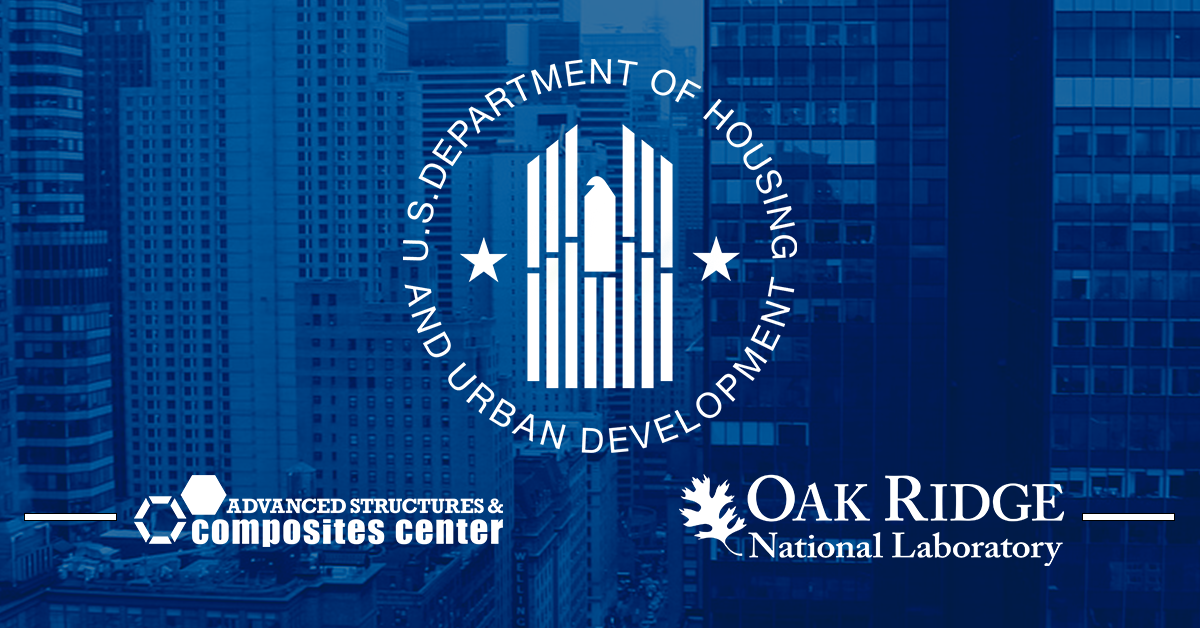 Revolutionizing Housing Construction: The Power of 3D Printed Bio-Based Floors
The Department of Energy's (DOE) Housing and Urban Development (HUD) Innovative Housing Showcase on June 9th-11th featured the University of Maine Advanced Structures and Composites Center (ASCC), the DOE's Manufacturing Demonstration Facility (MDF) at Oak Ridge National Laboratory (ORNL), and one of their industry partners, SHoP Architects, along with the design they collaborated on: bio-based, 3D printed installable floor assemblies. One of the biobased 3D printed floor units was displayed at the showcase in Washington, D.C. along with models showing the mid-rise modular buildings that integrate floor, as well as wall assemblies. This display was part of a larger DOE display at the showcase. HUD, together with the National Association of Homebuilders, co-sponsored the showcase as a public event to raise awareness of innovative housing designs and technologies that have the potential to increase housing supply, lower the cost of construction, expand affordable, accessible, and healthy housing options for low- and moderate-income households; all while supporting decarbonization in the housing sector.

SHoP Architects, an architectural firm based in New York, and their spinoff company ASSEMBLY OSM, collaborated with the ASCC through the Hub & Spoke Technical Collaboration program to evaluate the feasibility of using large format 3D printing with biomaterials to make their manufacturing processes greener, more efficient and economical. ASSEMBLY OSM is a leader in modular buildings, marrying digital twin technology with off-site, modular assembly to bring high-quality, high-end aesthetics to green, affordable mid-rise housing. They coordinated the use of the ASCC's 3D printing technologies and bio-composite research to modularize some of their architectural components; beginning with floor cassettes, or flooring pieces. The goal of the collaboration was to replace traditional floor assembly construction with 3D-printed, multifunctional, low-carbon single-piece units.

The Hub and Spoke program between the University of Maine's ASCC and the MDF at ORNL leverages the resources of these two world-class research organizations to help drive the adoption of sustainable materials and advanced manufacturing methods via direct partnerships with industry. The Hub and Spoke technical collaboration program brings together research experts with the needs and knowledge of the industry experts allowing for the development of 3D printed products that are environmentally stable and provide significant industry benefits. This collaboration happened in two phases: first, exploring potential bio-based materials and design research. Second, proving that the chosen designs would be printable and feasible for reducing construction costs. The next phase will involve 3D printing and installing floor cassettes into their assembly processes.

There is a growing cost problem with the housing and construction industries driven by increasing material costs and labor shortages. Construction in cities is even more expensive due to the high cost of time spent on-site. SHoP Architects came to the ASCC looking to reduce the amount of energy and processes used in off-site assembly and construction to make it more cost-effective and less time-consuming.

These cassettes were printed and designed to be made from bio-based composite materials, using wood-based waste, thus creating less impact on the environment. 3D printing these units allow for vertical penetrations, or small holes within each cassette, that are used for plumbing and electrical lines to go directly through the floor. This makes renovations and plumbing and electrical installations less labor-intensive and more cost-effective, as the cavities for these systems are printed directly into the floor. No need to carve out room or move things around – it's printed with the space for them! Removing the need to install a variety of systems individually saves significant time when constructing modular houses.
Additional 3D printed features in the floors are for HVAC ducting. With this feature, instead of having to install metal parts into already existing floors, the HVAC ducts are printed directly into them. This single bio-based composite floor cassette replaces 137 more carbon-intensive components (meaning they have a larger environmental footprint) compared to a traditional floor cassette, which still requires the installation of all these systems.

Looking forward, the next step will be designing the floor cassette 2.0 and working to make it weigh less while still adding stiffness. In this new model, the goal is to meet standard building codes and create printed floors that are fire retardant.

Hub and Spoke technical collaborations aim to create regional economic development, coordinating research knowledge with industrial knowledge to solve industry problems. The ASCC leverages UMaine's expertise and R&D facilities in collaboration with industry professionals to optimize processes and solve problems for manufacturers.

To read more about the Hub and Spoke technical collaboration program, click here.
Contact: Carter Emerson, carter.emerson@maine.edu