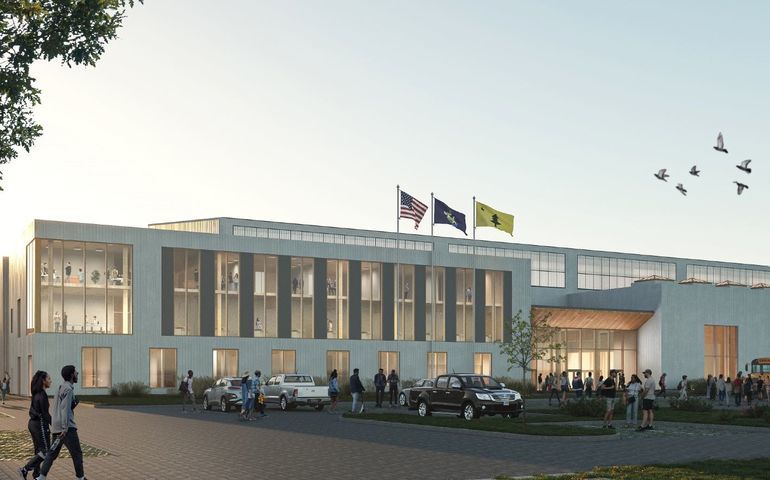 Lawmakers green-light $35M for UMaine's bio-based 'factory of the future'
Lawmakers green-light $35M for UMaine's bio-based 'factory of the future'
Mainebiz | By Staff
March 11th, 2022
Congress on Thursday approved an omnibus federal funding package that includes $35 million to help build a digital research laboratory at the University of Maine. The bill now heads to President Joe Biden, who is expected to sign it into law.

UMaine has dubbed the facility a "factory of the future." The goal is to advance large-scale, bio-based additive manufacturing using technologies such as artificial intelligence, high-performance computing and arrays of large 3D printers and subtractive systems.

The lab is an initiative of UMaine's Advanced Structures and Composites Center.

U.S. Sen. Susan Collins, R-Maine, a senior member of the Senate Appropriations Committee, advocated on the university's behalf for the $35 million plus an additional $55 million for other university research. She cited the projects' promise in supporting Maine's seafood, forest products and agriculture industries, promoting workforce development, and expanding access to early childhood education.

"For nearly a quarter-century, Sen. Collins has been a steadfast champion for research and development at UMaine," said Habib Dagher, executive director of the Advanced Structures and Composites Center, in a news release. "At the Advanced Structures and Composites Center, this has allowed us to provide paid research positions for over 2,600 UMaine students, has resulted in spin-off companies in Maine, and has allowed UMaine to become an R1 research university."

UMaine was ranked this year in the top 3.7% of universities in the country for research, according to a Carnegie Foundation ranking.

It's expected the overall cost of building the facility will be $75 million.

The center's new capabilities could drive new technology development in industries such as affordable housing, clean energy, construction, transportation, boatbuilding and furniture.

The expansion is estimated to be between 78,000 square feet and 92,000 square feet attached to the current center. The new area would include the lab's projected 35,000 square feet plus a welcome center, conference learning center, research-collaborative learning spaces and staff offices.

Work would include research on the manufacture and testing of large new systems made from bio-based and other advanced materials, focusing on digital manufacturing processes. There would be space for collaboration with industry and government partners, and training of the workforce, including undergraduates, graduate students and working professionals.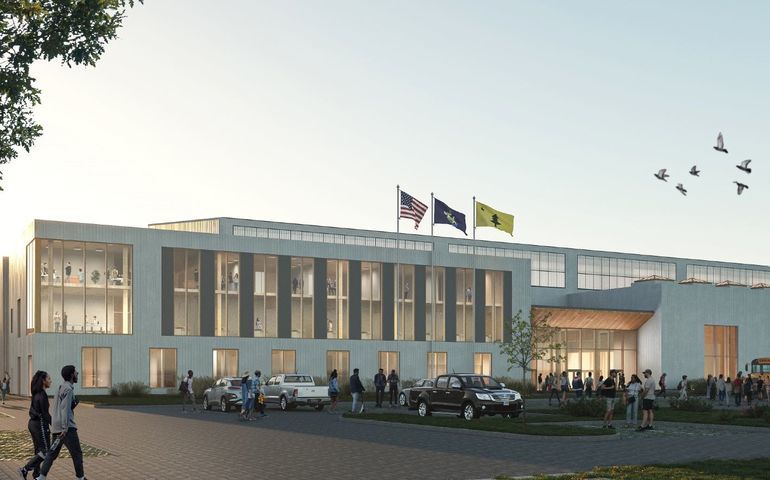 Other funding sources for construction include the state, the university and potentially other federal sources.
Congress also approved related appropriations for the center:

• $6 million to support continued work using the large 3D printer to prototype unmanned surface vehicles.

• $6 million to support UMaine's continued partnership with U.S. Army Natick Soldier Systems Center, a Department of Defense installation in Natick, Mass. The partnership is developing rapidly deployable shelters using advanced textiles.

• $2 million to support research and development of a novel manufacturing methodology for structural, environmentally sustainable, and energy efficient wood-fiber insulated panels for roof and wall construction assemblies.

• $20 million to support the development of additive manufacturing involving nano-cellulose feedstock materials made from forest products. This is an ongoing partnership between UMaine and Oak Ridge National Lab.

• $10 million support UMaine's Aqua Ventus offshore wind demonstration project. The award allows UMaine to compete for additional funding under the Wind Energy Technologies Office, including funding for innovative materials and manufacturing methods for offshore wind, distributed wind, and the additive manufacturing of offshore wind blades.

• $2 million to support UMaine's continued partnership with the Department of Homeland Security to develop secure shipping containers using thermoplastic composites and help scale up the production methods of these containers

"This investment in Maine's only R1 research university is an investment in the students, innovation and economic development, and the people of this state," said University of Maine President Joan Ferrini-Mundy.
Lawmakers green-light $35M for UMaine's bio-based 'factory of the future'
Mainebiz