Micro-credentials are digital badges that confirm your competency in a particular skill or set of skills. They provide confirmation to employers, hiring managers, or recruiters that you are proficient in the listed skills and have demonstrated those skills in a real-world professional environment like the ASCC. The University of Maine System created a framework for micro-credentials to maintain standards of achievement and ensure the value of the micro-credentials to learners and potential employers. More information on UMS micro-credentials can be found here.
Why should I earn micro-credentials?
Earning a micro-credential allows you to better showcase your skills and communicate your experiences to employers. It also allows potential employers to confirm that you have demonstrated your skills in a real-world professional setting, which enhances the value of your skills.
How do I earn them?
Each micro-credential or micro badge has different requirements. A micro-credential is comprised of three Levels, each with its own badge. The micro-credential pathway represents a collection of skills related to a specific area. Some of the specific skills are packaged into micro badges. Microbadges represent a distinct learning opportunity and may be earned without completing the full micro-credential pathway.

Notice that in addition to skill-specific micro badges, there are requirements for hours worked and career skill development. This demonstrates to employers that you have real-world work experience and skills that will make you an effective employee from your first day on the job. Click on the links below to navigate to the specific requirements for each offered micro-credential or micro badge.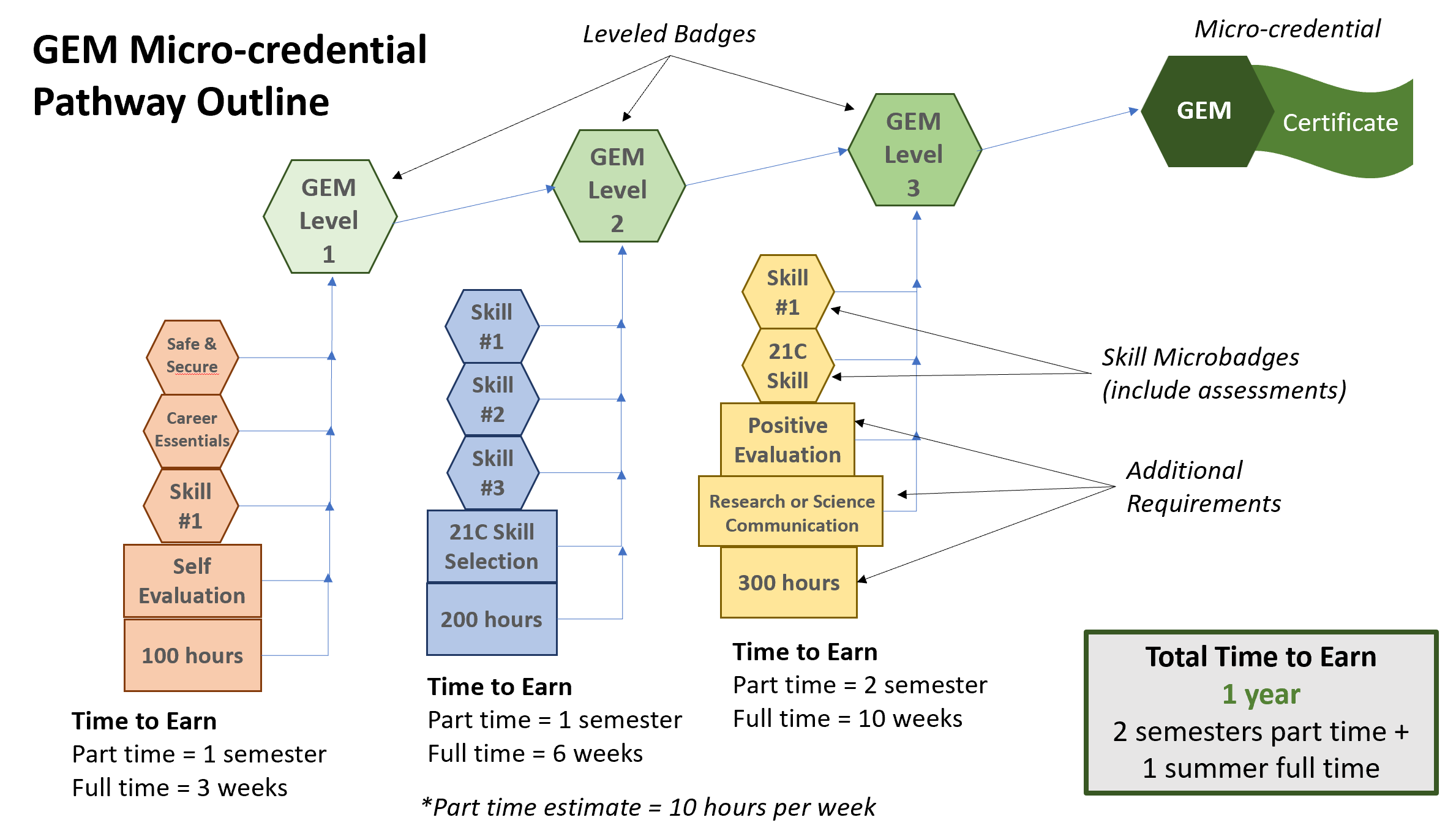 Can I earn UMS micro-credentials developed outside OF the ASCC?
Yes! There are many other micro-credential offerings that may enhance your personal and professional skills. You can see the full list of available UMS micro-credentials here. Please note that you may not be able to use paid ASCC work time to earn these other micro-credentials. This determination will need to be made by your supervisor.
What do I do with the micro-credential after I earn it?
Share it! Micro-credentials can be shared through a resume, in your professional email signature or on social media like LinkedIn. View the Badgr Guide for more information on sharing your micro-credentials.
Wait, What is Badgr?
Badgr is the platform that UMS uses to issue micro-credentials. You will use your Badgr account to collect and curate your micro-credentials. This is separate from your UMaine accounts so you will always have access to your Badgr backpack with your micro-credentials as long as you keep your account updated with your current email address. Please see the Badgr resources below for more information.
Badgr Guide
Badgr Knowledge Base
UMS Micro-Credential Support Website