GEM
Green Energy & Materials
AN INVESTMENT IN THE CREATION OF A GREENER TOMORROW
The Green Energy and Materials: Factory of the Future (GEM: FoF) is an innovative research facility focused on revolutionizing manufacturing through AI-enabled, large-scale bio-based advanced manufacturing. Equipped with AI-enabled 3D printers and advanced computational tools, GEM: FoF optimizes manufacturing through real-time monitoring, digital twin technology, and augmented and virtual reality.
Situated in the University of Maine College of Engineering and Computing (MCEC), GEM: FoF provides immersive learning opportunities for students, fostering innovation-led economic development in Maine's growth industries. It encourages collaboration, explores the next generation of manufacturing, and extends resources and capabilities to researchers worldwide through remote access and experimentation interfaces.
GEM: FoF represents a vision for the future of manufacturing in the United States, promoting convergent manufacturing techniques to enhance competitiveness. It establishes the University of Maine as a global leader in additive and advanced manufacturing, supporting UMaine students, bolstering the manufacturing sector, and driving Maine's economy towards innovation and progress.
IMPACT
GEM is a public resource for education and an opportunity for students and professionals to learn, GEM will –
• Innovate Maine's largest industries: forest products, affordable housing, modernizing infrastructure, clean local power from floating OSW
• Lead regional economic growth through workforce training, business incubation, technology development
• Provide world-class, transdisciplinary educational opportunities from K-12 through graduate
• Addresses both supply and demand issue of workforce development
• Support both formalized, credit-bearing instruction and other educational engagement for diverse audiences;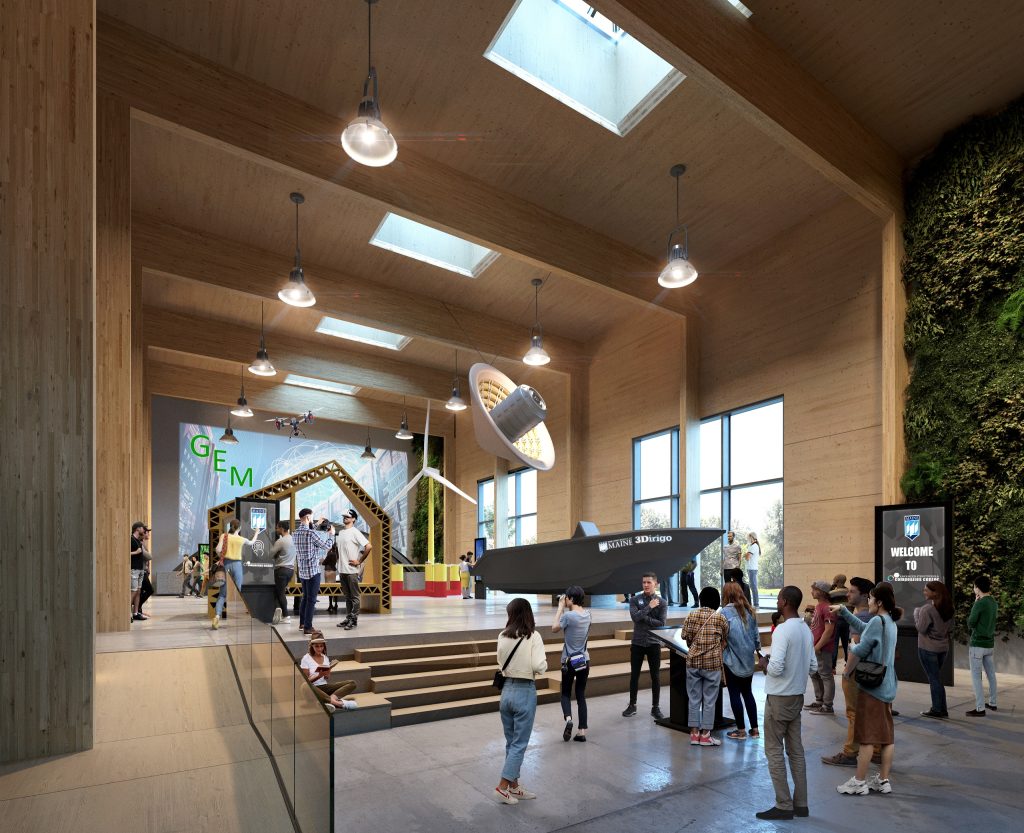 HOW TO GIVE

The University of Maine is an independent, non-profit 501 (c)(3) organization. Established in 1934, the Foundation exists to encourage gifts and bequests to nurture academic achievement, foster research and elevate intellectual pursuit at the University of Maine.