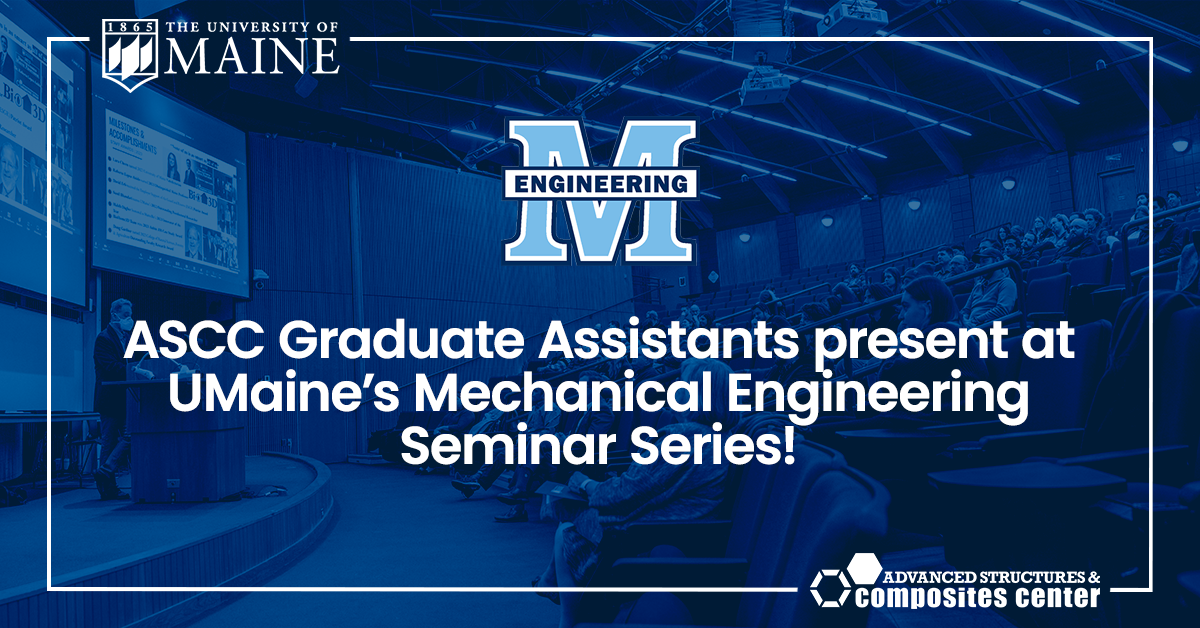 ASCC Graduate Assistants present at UMaine Mechanical Engineering Seminar Series
Three graduate research assistants at the Advanced Structures & Composites Center (ASCC) presented in the University of Maine Fall 2023 Mechanical Engineering Seminar Series hosted by the Maine College of Engineering and Computing.
Ian Ammerman, master's student in Mechanical Engineering, presented "State-space FOWT model for use as a digital twin" on September 29, 2023. At the ASCC, Ammerman works on control system development for floating offshore platforms & turbine systems.
"My presentation covered my work in implementing a linear Kalman filter using a linear state-space model of a floating offshore wind turbine platform extracted from the simulation tool OpenFAST. For my work, I use experimental results for the Kalman filter measurement. The Kalman filter then computes the optimal prediction of the true system state and proceeds to the next time step," said Ammerman. "The main point of the presentation was to show that using only a few measurements from the system, the Kalman filter is able to accurately model the motion of the FOWT platform from incoming waves using only a couple of measurements from the real system, despite the inaccuracy of the underlying linear model. The Kalman filter was also able to maintain its accurate prediction during extreme sea conditions."
Thomas Klodenski, master's student in Mechanical Engineering with a concentration in offshore wind energy, presented "Scale model testing of wave energy converter" on October 6, 2023. At the ASCC, Klodenski works on scale model testing and validating numerical models for floating systems. Klodenski's presentation gives an overview of wave energy converter numerical code WEC-Sim is provided, followed by the mathematical link between full-scale and model-scale physics that informs model design. Lastly, the WEC model build process featuring 3-D printed components and traditional boat building methods is reviewed. This work is important for the further development of floating offshore wind energy.
"In conjunction with our faculty partners, the ASCC provides graduate students with the opportunity and resources to conduct research that contributes solutions to problems of local, national, and global importance, such as renewable energy. All three student presenters are working with the ASCC Offshore Wind team, which is leading the way in the development and deployment of floating offshore wind energy solutions," said Dr. Rebecca Fisher, ASCC Program Manager of Student Research Learning.
"The ASCC also offers research opportunities to undergraduate students to build research-focused technical and professional skills for career development whether the student's goals are graduate school or the workforce. ASCC Micro-credentials, offered through the University of Maine System Micro-credential Initiative, provide verification of skill development and help students showcase their skills," said Fisher. "Our goal is to provide all ASCC students with the opportunity to earn a micro-credential as part of their research experience. We currently have five full micro-credential pathways and 13 micro-badges approved with more in development."