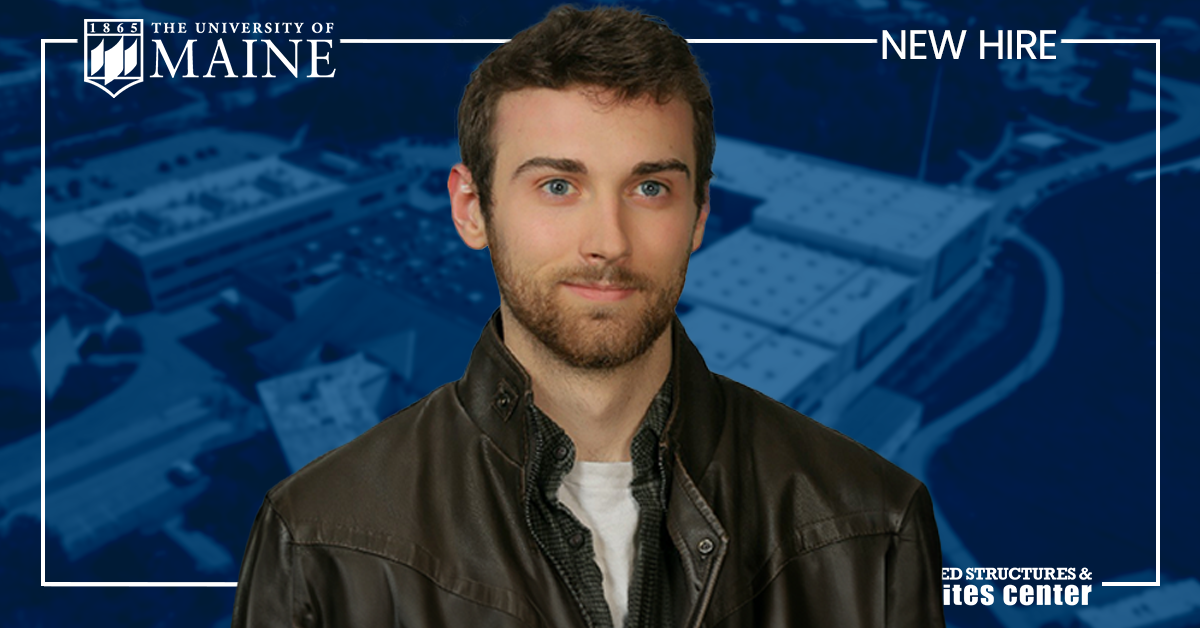 The ASCC expands Wood Composites Team with Snow Hire
ORONO, Maine – The Advanced Structures and Composites Center (ASCC) is thrilled to announce the hire of Jake Snow as a Wood Technologist working with our Wood Composites team!
Originally from Plainfield, Connecticut, Snow began his Forest Operations, Bioproducts & Bioenergy studies at the University of Maine. As an undergraduate, he got his start on the Wood Composites Team as a student research assistant manufacturing various wood composite specimens in a lab-scale production line until he graduated in May 2021. During undergrad, Snow was accepted into the National Science Foundation (NSF) Research Experience for Undergraduates (REU).
In high school, Snow gained experience as a Grinding Machinist for Baystate Machine in Plainfield, CT, where he performed production precision grinding. This position sparked his interest for wood technology.
"We're very happy that Jake decided to stay at the ASCC as part of our team," says ASCC Wood Technologist, Benjamin Herzog. "His experience and education make him a great asset, and I'm confident he'll not only supplement our current capabilities, but also help take our research activities to the next level."
"Wood products are a critical component of Maine's industry that target climate mitigation. They are sustainable products moving us forward to a greener future," said Snow.
While earning his M.S. in Biocomposite Engineering with a concentration in Forest Products from the University of Maine, Snow worked in conjunction with the ASCC on the development of prefabricated wood fiber insulated panels for new and retrofit construction. This is important research that relates to other wood products such as wood fiber insulation (WFI) products. The ASCC has aided TimberHP with the development of the first North American production of WFI products made right here in Maine.
Now, Snow works with the same team, the Wood Composites Team, doing direct industrial manufacturing and assisting lab trials. This work is crucial to the future of Maine's forest products industry.
Outside of the ASCC, Snow is working towards a degree in Philosophy from the University of Maine and enjoys reading.
The ASCC team is rapidly growing and always looking for talented individuals across all industries to join our team. For more information on open positions, visit the ASCC website or contact Kim Scribner, workforce coordinator, at kimberly.scribner@maine.edu.