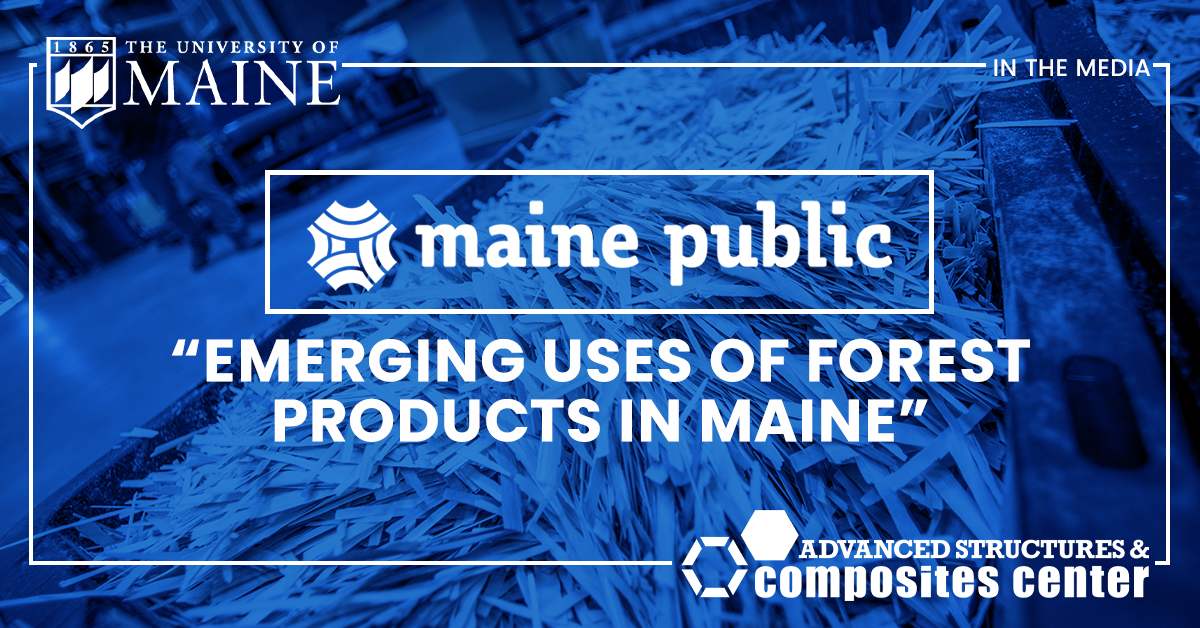 MacKay featured on Maine Public: Bringing the forest products industry into the next generation
Susan MacKay, a senior R&D program manager at the Advanced Structures and Composites Center, and Hemant Pendse, professor of chemical engineering and founder of the UMaine Forest Bioproducts Research Institute, were featured on Maine Public's show "Maine Calling" which focused on the emerging innovations of forest products.
Listen to the full episode here.
"We're looking at Next Generation manufacturing and then optimizing specific materials with these natural (Maine wood) fibers for these new Advanced manufacturing processes. The goal would be to create sustainability going forward in both the materials and the process and by optimizing them together we create growing demand for the types of materials that can be harvested here in Maine." said MacKay.
Many companies want to reduce their carbon footprint and make lower-carbon products, and they come to the University of Maine to create sustainable variations of their products. Being able to 3D print with bio-based materials opens up a lot of potential when it comes to developing more sustainable products and tools: being able to print whatever you need, made from renewable, recycled materials creates a lot of opportunities. This work is driven by our Hub & Spoke program with Oak Ridge National Laboratory.
One of our biggest bio-based projects was our BioHome3D, the world's largest bio-based 3D printed house. The BioHome's 600 sq ft, 1 bedroom, 1 bathroom is the definition of affordable housing here in Maine and beyond. Printed on the world's largest thermoplastic 3D printer, the BioHome is made entirely from bio-based products. Wood waste material, or wood residuals, to be exact. Being able to apply the bio-based printing mechanics to solve real-world problems (like affordable housing) creates a foundation for sustainable bio-based materials to be the norm, not the exception.
The forest biproducts industry has been driving Maine's economy for centuries. The ASCC is devoted to bringing Maine's historic industries into the next generation. Developing wood-based composite materials with a reduced carbon footprint and helping to create a more sustainable and viable future: not just for foresters, but for any other industry that is seeking to develop more sustainable practices.