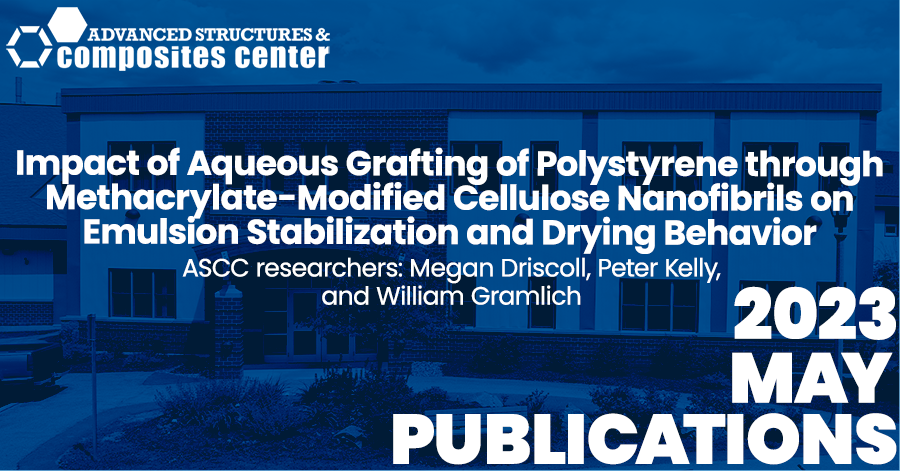 Unlocking the Potential of Hydrophobic Cellulose Nanofibrils: Enhancing Composite Reinforcement and Drying Behavior
An article by ASCC researchers Megan Driscoll, Peter Kelly, and William Gramlich was published in Langmuir. Titled "Impact of Aqueous Grafting of Polystyrene through Methacrylate-Modified Cellulose Nanofibrils on Emulsion Stabilization and Drying Behavior", this research explores how the hydrophobic modification of cellulose nanofibrils (CNFs) releases the capability for composite reinforcement including CNFs without energy-demanding spray drying.

The hydrophobic modifications of CNFs presented by Driscoll, Kelly, and Gramlich represent a significant milestone in CNF technology; by addressing hydrophobic limitations and overcoming fibrillar collapse, these breakthroughs unlock the potential applications of CNFs in a variety of industries. The improvement of composite properties through stable drying offers opportunities for more energy-efficient processes and allows for material development that is more viable and sustainable. The increased stability of hydrophobic CNFs (PS-MetCNFs) during the drying process makes them more accessible for projects that require hydrophobic materials and allows for the creation of composites that are both lightweight and high-strength.


Impact of Aqueous Grafting of Polystyrene through Methacrylate-Modified Cellulose Nanofibrils on Emulsion Stabilization and Drying Behavior
Authors: Megan Driscoll, Peter Kelly, William Gramlich
Abstract 
Cellulose nanofibrils (CNFs) are abundant materials limited in application by their hydrophilic nature and fibrillar collapse during drying. Herein, hydrophobic CNFs (PS-MetCNFs) were produced via the grafting of polystyrene through a methacrylate handle on modified CNFs. This modification prevented fibrillar collapse of the CNFs upon drying with as low as 3.5 wt % polystyrene. System characterization through kinetics studies and controls revealed that a surfactant-free emulsion polymerization ran parallel to the grafting-through polymerization. Polystyrene on the PS-MetCNFs was both covalently bound and noncovalently bound. This noncovalently bound polymer was due to polymerization in the monomer-swollen polymer particles on the PS-MetCNF surface. The polystyrene modification interfered with CNF Pickering emulsion behavior, instead stabilizing monomer-swollen polymer particles entangled in the CNF network. Composites of PS-MetCNFs and poly(lactic acid) showed higher maximum tensile stress and modulus at 5 wt % loading relative to composites made with unmodified spray-dried CNFs, demonstrating a route to composite reinforcement with CNFs without energy-intensive spray drying.
Keywords: Cellulose nanofibrils, CNF, Polystyrene, PS-MetCNFs, Polymerization


Impact of Aqueous Grafting of Polystyrene through Methacrylate-Modified Cellulose Nanofibrils on Emulsion Stabilization and Drying Behavior
Langmuir (2023)

Contact: Carter Emerson, carter.emerson@maine.edu