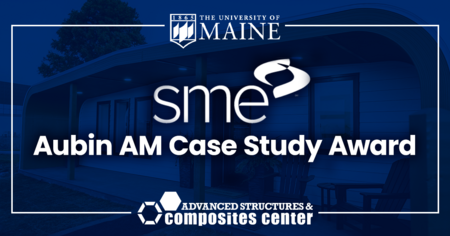 UMaine's BioHome3D recognized by the Society of Manufacturing Engineers for excellence in additive manufacturing

The University of Maine has been awarded the Aubin AM Case Study Award for its BioHome3D project. The project, which involves the construction of the world's first fully bio-based, fully recyclable, 3D-printed house, was recognized for its innovative and effective application of additive manufacturing (AM) technologies. The Society of Manufacturing Engineers (SME) presented the award at the RAPID + TCT 2023 event, the largest and most influential AM event in North America.
"This project is a major accomplishment of engineering and additive manufacturing that exemplifies the University of Maine's innovative, first-in-the-nation technology," says UMaine President Joan Ferrini-Mundy. "Congratulations to the Advanced Structures and Composites Center team for winning The Society of Manufacturing Engineers Aubin AM Case Study Award for excellence. I look forward to seeing the impact BioHome3D will have on affordable housing, sustainable development, and economic growth in Maine and beyond."
The BioHome3D project is a collaborative effort between the Advanced Structures and Composites Center (ASCC) at UMaine, the U.S. Department of Energy's Oak Ridge National Laboratory, the Maine State Housing Authority, Maine Technology Institute, and WBRC Architects Engineers. The house is made entirely from bio-based materials and uses 3D printing technology to produce the components needed for construction. This approach results in a highly sustainable and environmentally friendly home and significantly reduces construction waste and labor costs.
The recognition of the BioHome3D project as the Aubin AM Case Study Award winner highlights the importance of sustainable construction and the role that AM technologies can play in creating a more sustainable future while solving some of society's biggest challenges.
"BioHome3D is an excellent example of how innovative thinking and collaboration can lead to groundbreaking advancements in technology, and it serves as an inspiration for future generations of engineers and thought leaders," said Habib Dagher, executive director of the ASCC.
Receiving the award at the event were UMaine's Scott Tomlinson, engineer of record for the project, and Halil Tekinalp, research engineer at ORNL.
Contact: Taylor Ward, taylor.ward@maine.edu