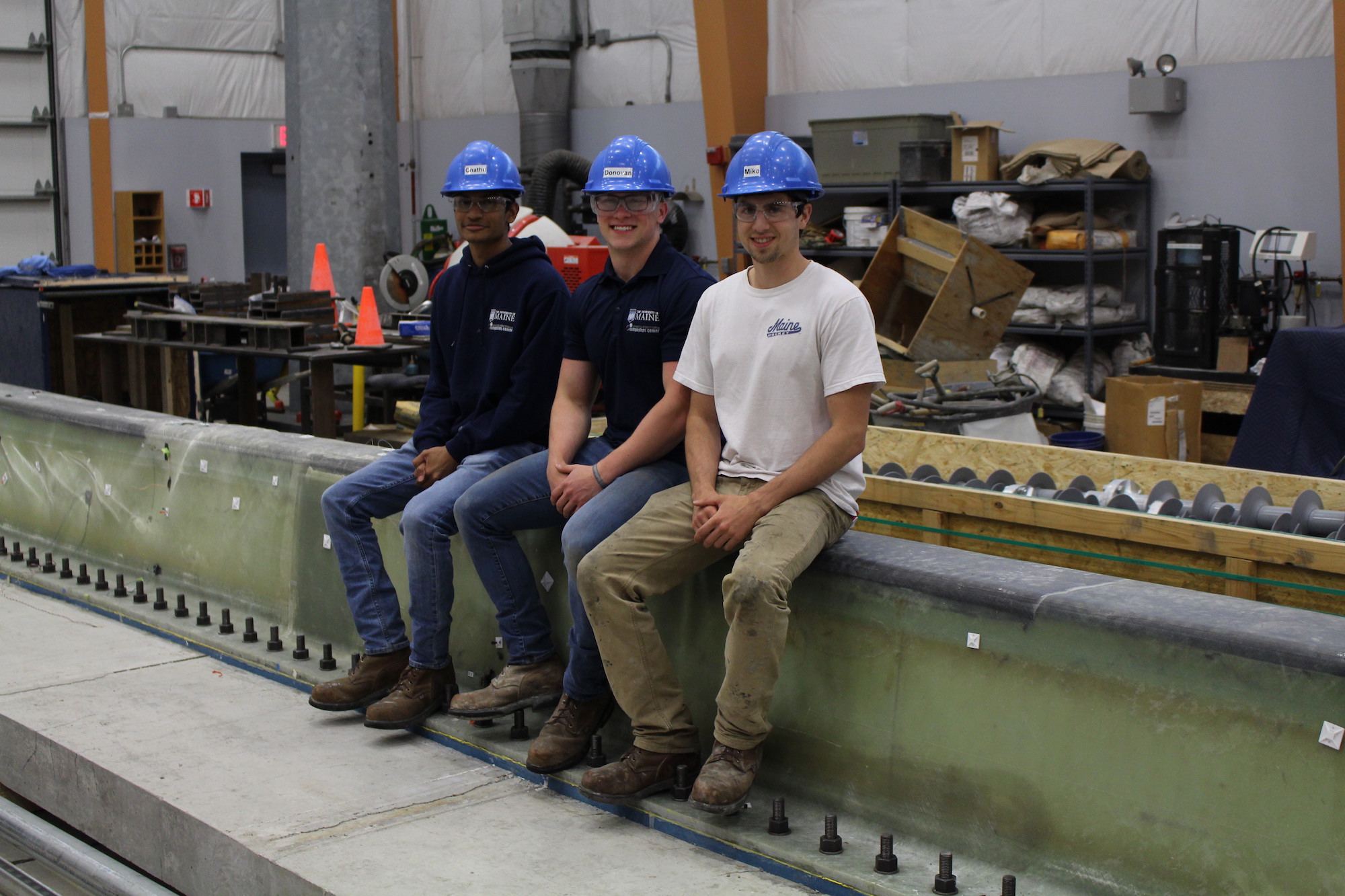 2016 Windstorm Challenge Participants Find Engineering Industry Experience and Success as Interns
Donovan Savage, Chathu Karunasiri, and Michael Hunter, three students from Caribou High School, participated in the 2016 Kleinschmidt Windstorm Challenge, which asks teams of students to design and construct a floating platform for a scale model wind turbine, and then deliver a presentation to a panel of expert judges. While their team lost, their work caught the eye of Dr. Joshua Clapp, a research engineer working for the University of Maine Advanced Structures and Composites Center (the Center).
The Caribou team's turbine was impressive enough that soon after Clapp offered each student on the team an internship at the Center. Currently, each of the students are going into their senior year at UMaine and are working for the Center as undergraduate research assistants.
"I definitely learned a lot," Savage said in regards to his internship. "It gave us a lot of real world experience, it allowed us to work in a lab setting. It gave us both sides of the engineering field. . . And there's the money aspect, it's nice to be making money during school."
Each of the assistants also noted that their time with the Center has allowed them to receive certifications which they would have been unable to obtain otherwise.
"For me, part of it is the convenience of where we're working is on campus," Karunasiri said when asked about the benefits of working for the Center. "It's also given me more confidence in the lab, it's just gone up and up and up."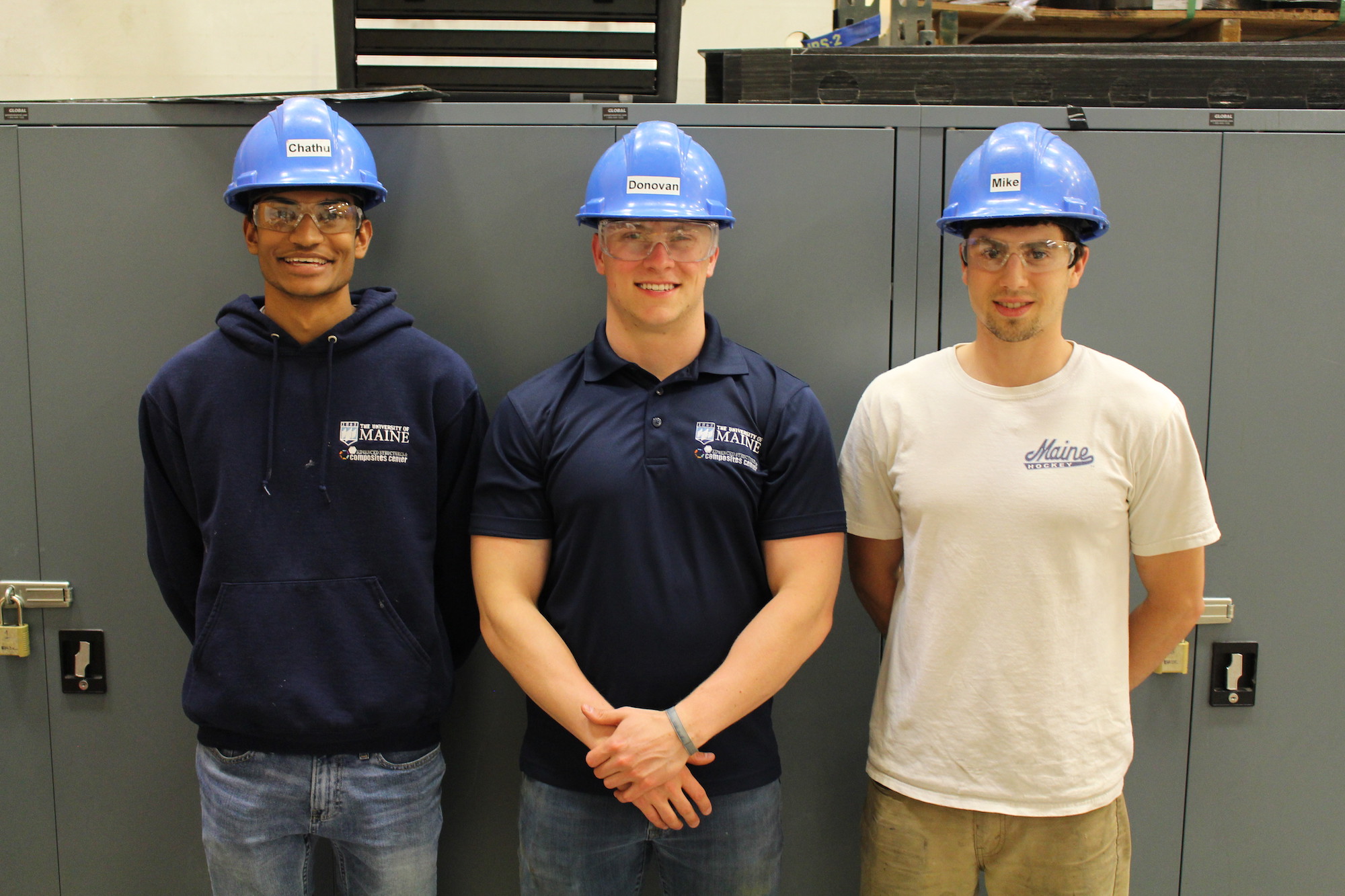 Hunter agreed with Karunasiri, and explained that each of them now has a leadership position in the Center's lab, which has "provided us with great experience and looks good on a resume." Hunter also commented that various skills of his have improved thanks to his time with the Center.
"Definitely communication and organization," Hunter said. "A lot of times, you have a lot of undergrads coming in and out, so it forces you to document everything and stay organized."
When the assistants were asked if they would recommend the Center to engineering students who are looking for a place to intern, they all agreed that the Center would be a "great choice."
"I'd say do it," Karunasiri replied. "It's a lot of work trying to balance school and work at the same time during the semester, but we're all so much better off once we get jobs. We know how a professional place actually works, how engineers talk. It's not as complex as you make it out to be in school. It's just people getting things done."
The current project for the Center that each assistant is working on regarding the development of a new type of bridge girder.
"We're working with fiber-reinforced-polymer, or FRP, materials to make bridge girders," Savage explained. "[The design] compared to steel is lighter, is supposed to last a lot longer, can be tailored to be stronger, and it's quicker to assemble the bridge with these."
As for the goals of the assistants, they are all unsure about their longterm paths, but agreed upon their short-term ones.
"Keep doing what we've been doing here, keep things going," Hunter explained for the group. "Then classes, work, graduate."