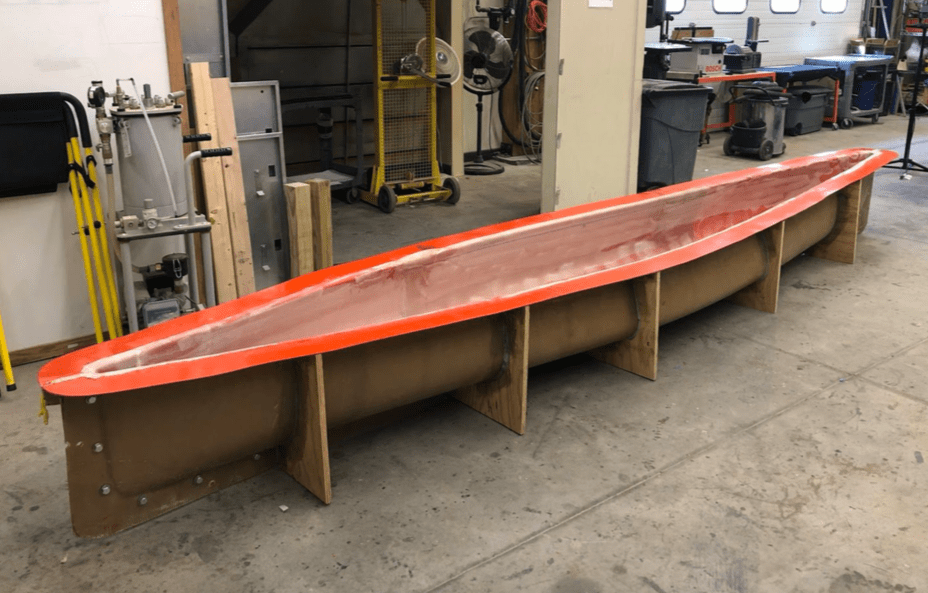 The longtime collaboration between the Advanced Structures and Composites Center and Orono High School
For the past several years, the Advanced Structures and Composites Center (the Center) has been working with the students and teachers of Orono High School (OHS) on multiple projects. These projects have allowed students opportunities to work alongside Center staff in a world-class laboratory.
Recently, the Center has been helping the OHS Canoe Racing Team and its leader Jeff Owen in constructing a composite mold. This mold will allow them to easily build canoes in Owen's shop for the team. Chris Urquhart and Stephen Berry have spent the past few months helping the team get the mold built at the Center. Urquhart has been he Safety and Lab Operations manager at the Center for seven years, and Berry is the Center's Composite Technician and has worked for the Center since 2006. The team, Urquhart, and Berry will soon mold their first boat.
Several OHS students have worked at the Center over the summer. During the weekends, the Center has also provided their space to high school students working on theater productions for the school. Two high school students, Lindsay Wells and Emily LeClair, have even gone on to work at the Center. Ben Blood, another student turned Center employee, is now enrolled at UMaine in Mechanical Engineering.
Margie Innis, the pre-calculus teacher at OHS, has brought her class to the Center two years in a row. In March, she and her students came to the Center to study trigonometry by studying its wave basin and the fatigue testing of wind blades. Center employees Ocean and Mechanical Engineer Matt Fowler, Ocean Engineer Matt Cameron, and Research Engineer Shawn Eary have been helping the class with this.
The collaborative efforts of OHS and ASCC were featured in the UMaine's superintendent's newsletter. It showcases the progress made on the design and molding of the canoe being used for the upcoming one-person canoe race that the high school will be participating in.