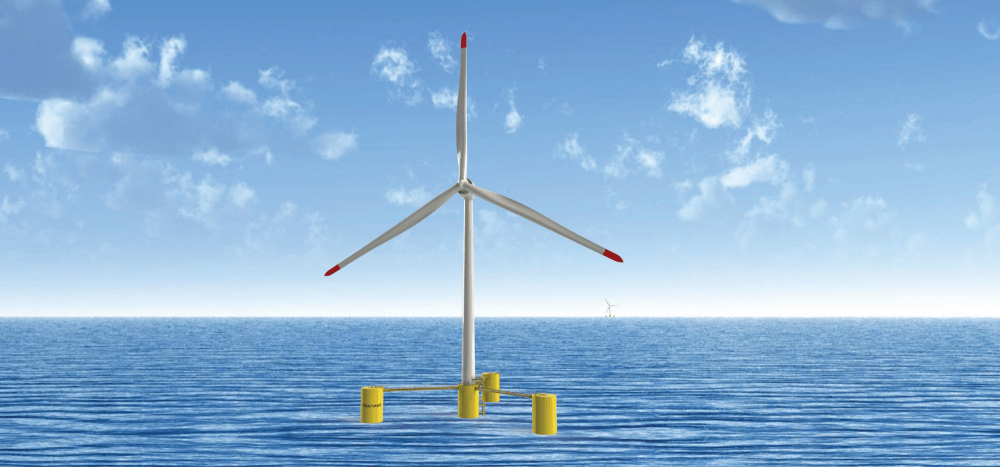 UMaine Offshore Wind Project Forges Ahead with Maine PUC
Earlier today, the Maine Public Utilities Commission (PUC) voted to review Maine Aqua Ventus terms for our two-turbine research and development project off of Monhegan Island. During today's deliberation, they identified additional questions they would like answered before they move forward with a Power Purchase Agreement (PPA) decision.
The stakes are high for Maine, as offshore wind energy has taken off in southern New England and other parts of the world. We can't afford to be left behind. The American Jobs Project issued a report in June 2018 that estimates this project can help produce more than 2,100 Maine jobs per year through 2030.
UMaine is extremely committed to this project, and we are confident that we can answer the PUC's questions to establish a PPA that allows the project to move forward as soon as possible. The PUC will issue an order in the next several weeks that includes specific requests for additional information. We're grateful for the opportunity to provide additional information in support of a PPA.
We have been blessed with tremendous, ongoing bipartisan support for this project from the legislature and from the people of Maine for the past ten years. The Ocean Energy Act was passed unanimously by the State Legislature in 2010. Following this, the Maine voters approved an $11 million bond to move this project forward. We are extremely thankful to the hundreds of thousands of Maine citizens who voted for this bond, and are also grateful to the businesses, nonprofit organizations, and hundreds of Maine citizens who recently wrote to the PUC on behalf of this project.
Four years ago, when the PUC approved our draft term sheet, there was no offshore wind industry in the United States. Earlier this month, Massachusetts awarded an 800 MW offshore wind project, Rhode Island awarded 400 MW offshore wind project, and New Jersey's governor signed into law 3,500 MW of offshore wind by 2030.
It's clear that the US offshore wind industry is very real, but fixed foundation turbines are limited to shallow water depth. Most of Maine's offshore wind resource, and nearly 60% of the U.S. offshore wind resource is located in deepwater where only floating turbines can be used. It's clear that floating offshore wind is the next frontier, and Maine's floating turbine technology can still put our state in the driver's seat.
This project is crucial to our state's future, and we'll continue to work diligently to bring it to fruition.
—
Contact:
Meghan Collins
(207) 581-2117
mc@maine.edu