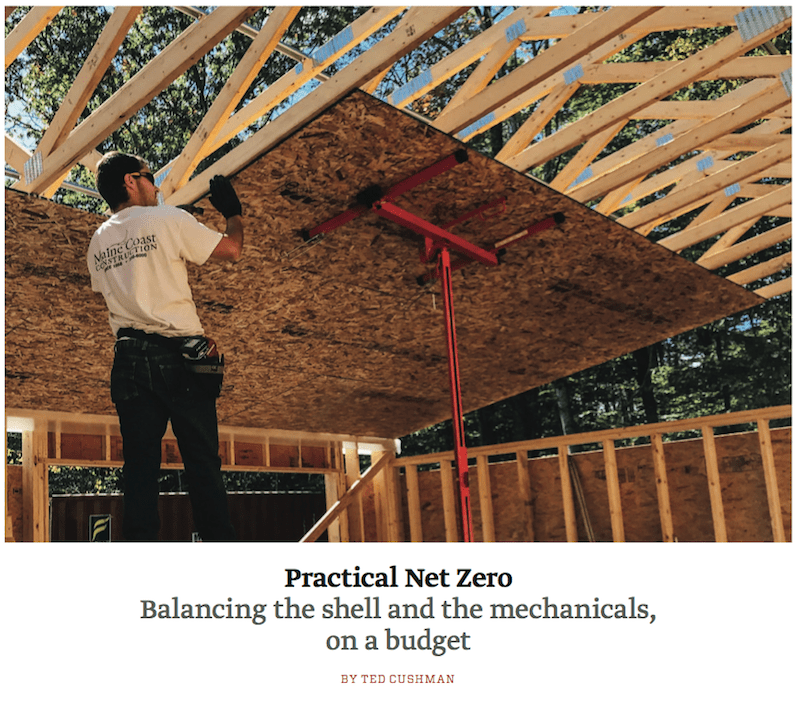 Dwyer featured in Journal of Light Construction
Mark Dwyer, a research engineer at the UMaine Composites Center, was recently featured in the Journal of Light Construction for a personal side project: designing and building a net-zero home in Bangor, Maine. Click here to read the full article.
From the article:
These days, building a house that complies with the energy code can involve a lot of trade-offs. And if you're aiming for above-code performance, where the stakes are higher, the trade-offs become even more challenging to evaluate. High-performance builders are pioneers, and each high-performance house is an exploration of uncharted territory.

In this story, we'll look at one such adventure: a net-zero home in Bangor, Maine, designed and built by civil engineer Mark Dwyer and custom builder and remodeler David Kelly.

While Dwyer has previous experience in spec remodeling, this house is a side project for him; in his day job, he's a research engineer with the Advanced Structures and Composites Center at the University of Maine in Orono. For builder and remodeler David Kelly, of Bangor-based House Revivers, the collaboration with Dwyer is a chance to deepen his expertise in high-performance home building, adding to the experience he gained in earlier House Revivers projects (including three net-zero "Eco Homes" built on an infill lot in Bangor).