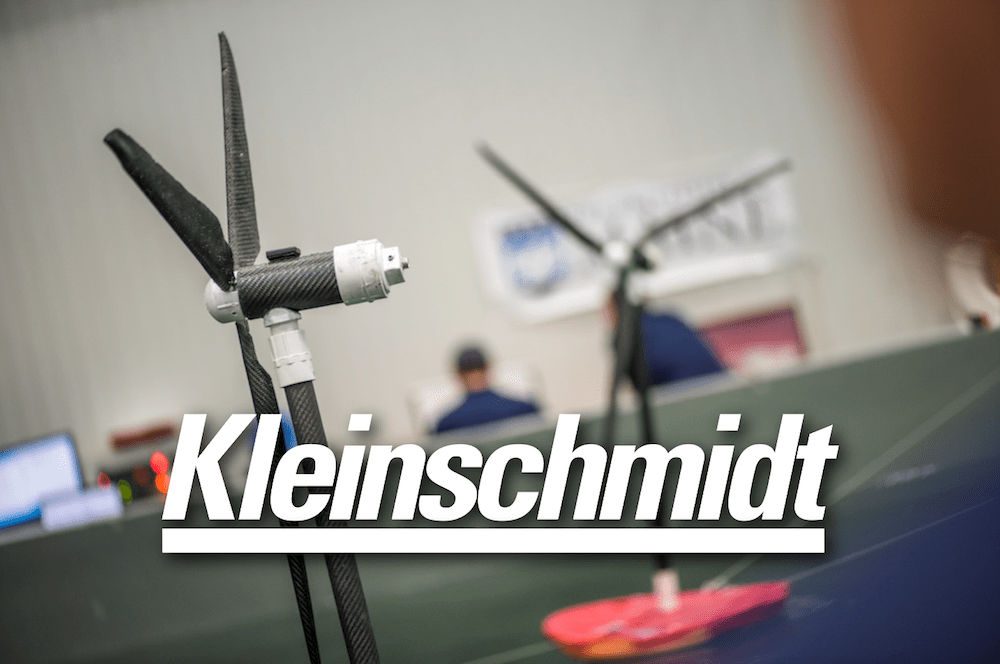 UMaine, Kleinschmidt Associates announce naming gift in support of Windstorm Challenge
The University of Maine Advanced Structures and Composites Center and Kleinschmidt Associates, headquartered in Pittsfield, Maine, have announced a naming gift to support the Windstorm Challenge, a STEM competition at UMaine for Maine middle school and high school students, focusing on renewable energy, innovation and economic development.
The Kleinschmidt Windstorm Challenge will be held May 19, 2017 at UMaine's Advanced Structures and Composites Center in the Alfond W2 Ocean Engineering Lab.
In the Windstorm Challenge, teams of middle and high school students collaborate to design and construct a scale-model floating wind turbine platform, test the design under wind and wave conditions, and deliver a sales pitch-style presentation to a panel of judges. Members of the winning team are presented with an internship opportunity at the UMaine Composites Center valued more than $20,000, contingent on enrollment at UMaine.
The $30,000 naming gift will be used in part to offer transportation assistance to rural schools with demonstrated need. This gift provides multiyear support, making it possible for UMaine to engage more teachers and student participants from schools across Maine.
"Kleinschmidt is proud to support the Windstorm Challenge and hopes to inspire more Maine students to consider careers where they create solutions to our world's most challenging problems," says Keith Martin, senior engineer at Kleinschmidt Associates.
"Our business provides energy, water and environmental services to clients across North America and this program is right in line with our corporate mission," says Chuck Padera, Kleinschmidt's CEO. "We hope this challenge engages the minds of the future scientists and engineers we want to hire in a few years."
"This new partnership will allow us to expose even more of Maine's top middle school and high school students to cutting-edge offshore wind energy research and laboratories at UMaine," said Habib Dagher, executive director of the Advanced Structures and Composites Center. "We thank Kleinshmidt for enabling more students to experience the incredible STEM opportunities that exist for them within our state."
Windstorm Challenge, now in its fifth year, has had more than 150 youth participants annually from schools across Maine including: Caribou Middle School and Caribou High School, Mattanawcook Academy, Bangor High School, Orono High School, Old Town High School, King Middle School. Participants engage with engineering principles, teamwork, innovation, marketing, and research and development. The competition also provides many students with their first campus experience.
About Kleinschmidt Associates
Kleinschmidt Associates works primarily with energy companies in North America to protect and enhance the environment without compromising performance. Kleinschmidt works at the intersection of regulatory requirements, environmental science, and engineering solutions. For half a century, Kleinschmidt has been bringing new ideas to the table, offering practical solutions to tough problems and sensitive issues, and bring energy, water, and the environment into balance.