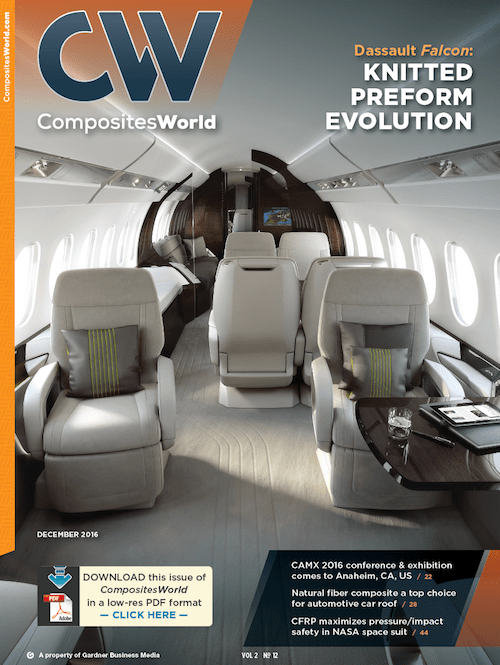 UMaine MET Capstone Project Featured in Dec 2016 Composites World Magazine
A UMaine Mechanical Engineering Technology (MET) capstone project was featured in the December 2016 edition of Composites World magazine. The article, titled "UMaine students investigate knitted reinforcements," provides an overview of the capstone project advised by Dr. Brett Ellis and David Erb that explored knitted fabrics in structural applications.
The structures examined by the capstone project were fabricated in the Kenway Composite Materials Lab at the UMaine Advanced Structures and Composites Center.
UMaine students investigate knitted reinforcements

Students at the University of Maine's (Orono, ME, US) Mechanical Engineering Technology (MET) program have been investigating knitted fabrics for use in structural applications, particularly for the arches of the UMaine-developed Composite Arch Bridge System, or Bridge-in-a-Backpack (see CW's article about the latter and its applications | short. compositesworld.com/DwM3fIlT). The students included Carlton Allen, Ron Bouchard, Nial Craig, Caleb Drake, Tim Heno, Eric Marcotte, James Martin, and Nick Sluzenski, working under the guidance of David Erb, Jr., senior R&D program manager, Advanced Structures and Composites Center, University of Maine, and Brett Ellis, Ph.D, P.E., assistant professor in Mechanical Engineering Technology, University of Maine.

The students fabricated knitted sleeves on a Lawsom-Hemphill Fiber Analysis Knitter (FAK) circular knitting machine, using SIGRAFIL carbon fiber yarn supplied by SGL Carbon SE (Wiesbaden, Germany). Then the sleeves were cut and infused with DERAKANE vinyl ester resin supplied by Ashland Performance Materials (Columbus, OH, US), along with a braid supplied by A&P Technology Inc. (Cincinnati, OH, US) for comparison, and mechanically tested.

The commercial braid had the highest fiber-volume fraction and the highest overall axial tensile strength, and the knitted fabric samples had higher axial tensile strength than transverse tensile strength. The students continue to investigate the reasons for the observed data and have concluded that knitted structural reinforcements have a place within high-performance applications, particularly for double-curved parts where the knits' conformability is a real plus. Says Erb, knitting offers unique opportunities to vary the density and frequency of the looped structure. "The knit reinforcement is highly dependent on the strength of the matrix, so properties like flexibility, energy absorption and toughness can be designed in." Knitting, a mature commercial technology, can be employed to rapidly manufacture complex, net-shape part preforms. Check out this link for more information on UMaine's student research on knitted reinforcements: short.compositesworld.com/UMaineKnit