U.S. DOE Announces New National Offshore Wind Strategy to Drive Deployment, Mentions UMaine Project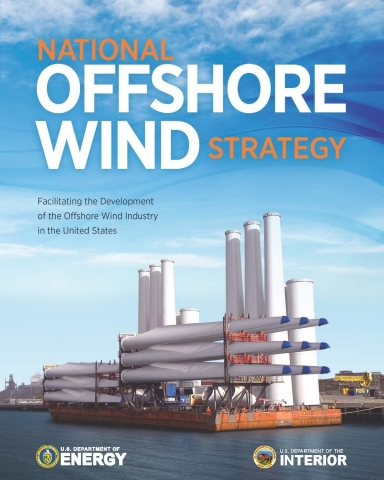 The U.S. Department of Energy announced a new National Offshore Wind Strategy today aims to help facilitate 86 GW of offshore wind in the U.S. by 2050. The strategy document, available for download, credits the University of Maine in its role as one of three DOE Advanced Technology Demonstration Projects. The document also notes UMaine as having presented regulators with floating foundation technologies for harnessing offshore wind energy, and credits the State of Maine for its participation with several other states working to develop a roadmap for a regional offshore wind market.
Click here to view the U.S. Department of Energy's Press Release from September 9, 2016.
U.S. Secretary of Energy Ernest Moniz and U.S. Secretary of the Interior Sally Jewell today announced the publication of a collaborative strategic plan to continue accelerating the development of offshore wind energy in the United States, the National Offshore Wind Strategy: Facilitating the Development of the Offshore Wind Industry in the United States,which could help enable 86 gigawatts of offshore wind in the United States by 2050. The strategy details the current state of offshore wind in the United States, presents the actions and innovations needed to reduce deployment costs and timelines, and provides a roadmap to support the growth and success of the industry.

The National Offshore Wind Strategy identifies key challenges facing the industry and more than 30 specific actions that DOE and DOI can take over the next five years to address those challenges. These actions fall into three strategic areas:

Reducing technical costs and risks. DOI proposes the joint development of standard data collection guidelines to foster predictability and inform safe project development and DOE will work to increase annual energy production and reliability of offshore wind plants.
Supporting effective stewardship. DOI commits to numerous actions to ensure that the regulatory process is predictable, transparent, efficient and informed by lessons learned from regulators in other countries. Additionally, as the first generation of installed projects come online, DOI and DOE will collect field data on parts of offshore development including impacts on marine life and turbine radar interference in order to support future offshore wind siting and plan reviews.
Improving the market conditions for investment in offshore wind energy. Studies are needed help quantify the broad grid integration impacts of adding significant amounts of offshore wind energy to the power system. Such information could significantly benefit the offshore wind community by informing state policies critical to supporting development.