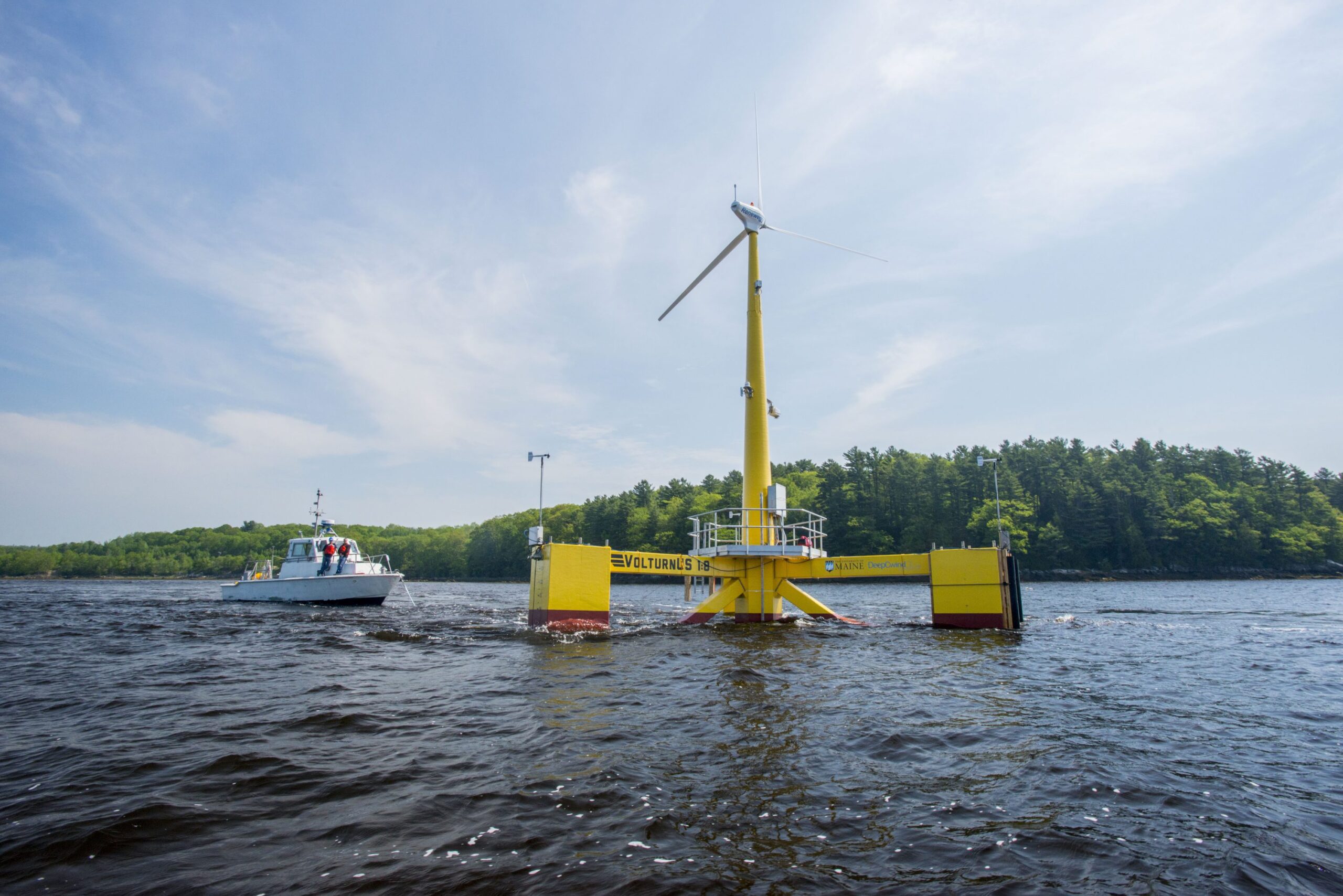 Portland Press Herald: Risky choices paying off for UMaine's wind project
On Sunday, July 10, 2016, Tux Turkel of the Portland Press Herald published an article titled: "Risky choices paying off for UMaine's wind project: using unconventional materials and real-world testing, a university-led consortium is poised to become a global leader in offshore turbines."
To read the full article, visit: http://www.pressherald.com/2016/07/10/umaine-offshore-wind-project-poised-to-take-off
Gale-force winds and heavy rain lashed the Maine coast on Nov. 1, 2013. Power went out in parts of Hancock and Washington counties. It was a perfect day to stay indoors, and watch history being made in ocean energy.

At their computers, University of Maine researchers and their partners were monitoring data streams coming from 60 sensors on the VolturnUS wind turbine, their experimental, floating platform anchored off Castine. On a shoreside video feed, they could see waves nearly 9 feet high washing over the concrete platform, which was one-eighth the size of a full-scale unit. That was the equivalent of a full-size platform bearing the brunt of a 70-foot wave, bigger than any that could be expected in the Gulf of Maine every 100 years.

But what they saw next was even more amazing: The turbine spinning 40 feet above the ocean had a pitch angle of only 5.9 percent, meaning that it was staying nearly vertical, despite the churning sea. That motion measurement mirrored the team's computer models, vindication that they could predict how the platform would perform far offshore.

"That was the ah-ha moment," said Habib Dagher, director of the Advanced Structures and Composites Center and the lead researcher on the project. Dagher and his team made calculated gambles on several innovative strategies – from the unconventional materials used to make the platform and tower, the unusually large scale of the test platform, and the sheltered-yet-stormy location chosen to test them. Those calculations now are paying off.
To read the full article, visit: http://www.pressherald.com/2016/07/10/umaine-offshore-wind-project-poised-to-take-off