Young Awarded NASA Space Technology Research Fellowship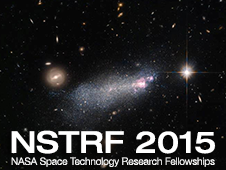 Each year, NASA selects a group of graduate and doctoral students to become NASA Space Technology Research Fellows as a part of the NASA Space Technology Research Fellowship (NSTRF). This year, University of Maine doctoral student Andrew Young was awarded a 2015 fellowship for his work on the HIAD project at the Advanced Structures and Composites Center. The NSTRF will fund Young's research for one year starting in August and beyond depending on project progress and future availability of funds.
Young conducts his research at University of Maine's Advanced Structures and Composites Center and is pursuing a degree with the University of Maine's Civil and Environmental Engineering department. His advisors are Dr. William Davids and Dr. Andrew Goupee.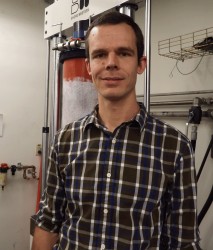 The goal of NSTRF is to sponsor U.S. citizen and permanent resident graduate students who show significant potential to contribute to NASA's goal of creating innovative new space technologies for our Nation's science, exploration and economic future. The fellowship program is a year long fellowship, and includes a 10 week visiting technologist experience, providing Young with the opportunity to work and collaborate with engineering experts in his field.
Abstract:
This proposal seeks to advance the understanding of full-scale Hypersonic Inflatable Aerodynamic Decelerators (HIADs) in support of NASA's Space Technology Roadmap, TABS element 9.1.4, Deployable Hypersonic Aeroshells. The HIAD system is a low technology readiness level (TRL) space technology that has the potential to deliver the size of payloads that will be required for human missions to Mars. The current state of the art Mars payload delivery is estimated at 1.5 metric tons. However, payloads on the order of 20 to 60 metric tons will be required for a successful human mission to Mars. Upwards of a 40 fold increase in payload mass represents a significant jump from the currently available decelerator technology. 

To read the full abstract, visit: https://www.nasa.gov/feature/large-payload-hiad-systems-structural-investigation-and-optimization
To learn more about this fellowship, visit the following URL:
https://www.nasa.gov/directorates/spacetech/strg/archives_nstrf.html#.Va_g_CpVhHz