Mechanical Engineering Senior Capstone Collaboration
A group of Mechanical Engineering students at the University of Maine used a unique machine – a filament winder – in the UMaine Composites Center's Kenway Composite Materials Lab to complete their senior capstone project with support of faculty and staff. Eric Wold (from Freeport, ME), Will London (from Carrabassett Valley, ME), and Ben Johnson (from Yarmouth, ME) are three members of the four person Mechanical Engineering capstone team who also worked as student employees at the UMaine Composites Center.
Their capstone project involved the creation of a composite pressure chamber for a desalination unit that was previously built as part of an earlier project in 2011. The desalination unit uses reverse osmosis to separate salt from water to make seawater potable. The problem with the 2011 unit was that the membrane that separated the salt from water would get fouled after a certain amount of salt residue built up. Before this year's adaptation, there was no way to monitor the status of the membrane, so routine checks would have to be scheduled to clean or replace the membrane whether a repair was needed or not.
The team, which also included Mechanical Engineering undergraduate Axl Wallingford, wanted to create a pressure vessel that would hold sensors to monitor the status of the membrane, allowing for repairs on an as-needed basis, all while maintaining the structural integrity of the vessel. This modification reduces the need for routine checks and shutdown time, increasing the productivity of the desalination unit.
"By integrating ultrasonic technology to detect fouling, pressure vessels made with this technology have the potential to improve efficiency and reduce cost in desalination plants," Wold said on the project.
This project's origins also broke new ground, as no other pressure vessel with built in sensors existed for this type of unit.
"We decided that it would be neat to design something that hadn't been made before," London said, "So it was a bit of a novelty attraction in that regard." Once the decision had been made on the design and the overall goal of the project, the group turned towards a composite material to eliminate corrosion.  "It's the industry standard to use composites for pressure vessels," London said, "Having the resources on campus, we knew it would be more feasible."
"Using composites added complexity to just about every stage of the project," Wold said,  "Without our experience working at the center and with center faculty and staff, we would not have felt comfortable taking on this added challenge."
Not only was the group familiar with the UMaine Composites Center, but they say the equipment and resources there were also the most practical for what they wanted to accomplish.
"Our capstone project served as a bridge between the center and the mechanical engineering department," Wold said on the collaboration between their academic homes and student employment.
"Most of our group have worked with the staff, so it was really easy to ask for advice," London said. "That was really beneficial for us."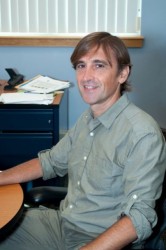 The group was advised by Professor Mick Peterson of the mechanical engineering department, who served as their Capstone Advisor. They also got assistance at the center from Dr. Roberto Lopez-Anido, their center technical advisor, and UMaine Composites Center staff member Chris Urquhart, who served as the group's manufacturing lab contact.
"I provided advice about the design of the fiber reinforced polymer composite for the pressure vessel and helped manufacture that product using the filament winder we have in our lab," Dr. Lopez-Anido said. "It is part of our mission to support the education of the students – we really welcome these types of projects. It is important for students to complement their education and help them in their career decisions."
The project utilized the center's filament winder, as seen in the following video, produced by the project team:
After Graduation
For London, Johnson, and Wold, their educational experiences at the UMaine Composites Center directly influenced their career decisions.
"Working here gives you the hands on experience that you don't necessarily get just going to class," London spoke on his work experience, "you start to see the real world application of what you are doing in class."
London is currently working as a Graduate Research Assistant at the UMaine Composites Center, pursuing a M.S. under advisement of Dr. Lopez-Anido, studying 3D woven composite fatigue.
Johnson has secured a job with Woodard and Curran, a Maine based integrated engineering, science, and operations consulting firm that works with a wide variety of clients nationwide. Johnson will be working in the Atlanta office as an engineer for food and beverage clients.
Wold has since taken a job with Dagher Engineering, a New York based company that specializes in sustainable building design. Wold agrees that his experience at UMaine helped him land his job.
"I was able to talk about my experience working in a professional environment and balancing multiple projects along with classes," Wold said, "The thing that impressed my interviewers the most was that I had experience working with clients and managing a project as an undergrad."
The UMaine Composites Center typically employs over 100 undergraduate students per year from a wide variety of majors. Center undergraduates have opportunities to become full research partners including being named authors on journal articles, named inventors on patents, and attending national and international conferences and meetings. For more information about opportunities for undergraduate students, click here.