Composite Arch Bridge System Featured Cover Story of Plastics Engineering Magazine May 2015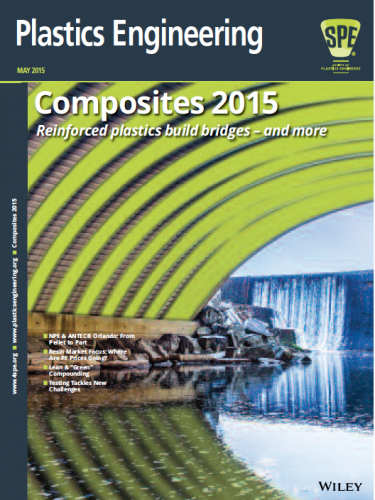 The University of Maine's Composites Arch Bridge System, commonly known as "Bridge-In-A-BackpackTM," was featured in the cover story of Plastics Engineering May 2015. The article titled, "Reinforced Plastics Move into Non-Traditional Markets," was written Peggy Malnati.
Click here to view the full article (PDF).
An excerpt from the article follows:
Composites for Rapid Bridge Replacement

With increasingly unpredictable weather, natural disasters, and civil unrest plaguing many regions, it's increasingly important to be able to replace damaged or destroyed bridges rapidly. Even in settled areas, aging infrastructure on bridges that are over their limit and beyond their service life means local and regional governments need ways to replace bridges quickly and cost effectively, preferably with materials offering longer use life.

A composites-intensive bridge technology developed by University of Maine's Advanced Structures & Composites Center and commercialized by Advanced Infrastructure Technologies (both in Orono, Maine, USA) is said to provide a better, faster way to replace a wide variety of concrete bridges, freeway underpasses/overpasses, and railroad bridges. The project began with three ambitious goals: replace concrete formwork and rebar, use efficient arched structures, and produce components at the worksite.
Posted with permission from Plastics Engineering magazine, the Society of Plastics Engineers (SPE), and Wiley. Learn more about Plastics Engineering magazine at www.plasticsengineering.org. Read the whole issue at http://read.nxtbook.com/wiley/plasticsengineering/may2015/index.html.