IEC 61400-23 Wind Blade Testing
Blade lengths up to 70 m
Static proof loads to > 30,000 kN·m
Up to seven simultaneous load points at 130 kN
Fatigue loads to > 20,000 kN·m
Natural frequency and damping measurements
Blade rotation system with >150 kN·m brake system
Digital image correlation to characterize surface buckling
Rolling ultrasonic probe to inspect adhesive joints
Wind Blade Substructure Testing
Beam fatigue testing up to 2,000 kN
Root stud pull-out testing
Bending or torsion testing on joints and sections
Wind Blade Testing Client Testimonial
We completed static strength testing of a 56-meter (184-foot) wind turbine blade for Gamesa, a global technological leader in the wind industry which is based in Spain. Juan Diego Díaz, the marketing director for Gamesa, said, "North America was a logical place to conduct this important step in our product development, supporting our growing commercial opportunities in that region and globally. We were impressed by the testing quality, safety and attention to detail provided by the UMaine team in successfully testing our blade." Image is courtesy of Gamesa.
Offshore Wind Lab Reaction Wall
The reaction wall's static capacity is more than 30,000 kN·m and fatigue capacity is more than 20,000 kN·m.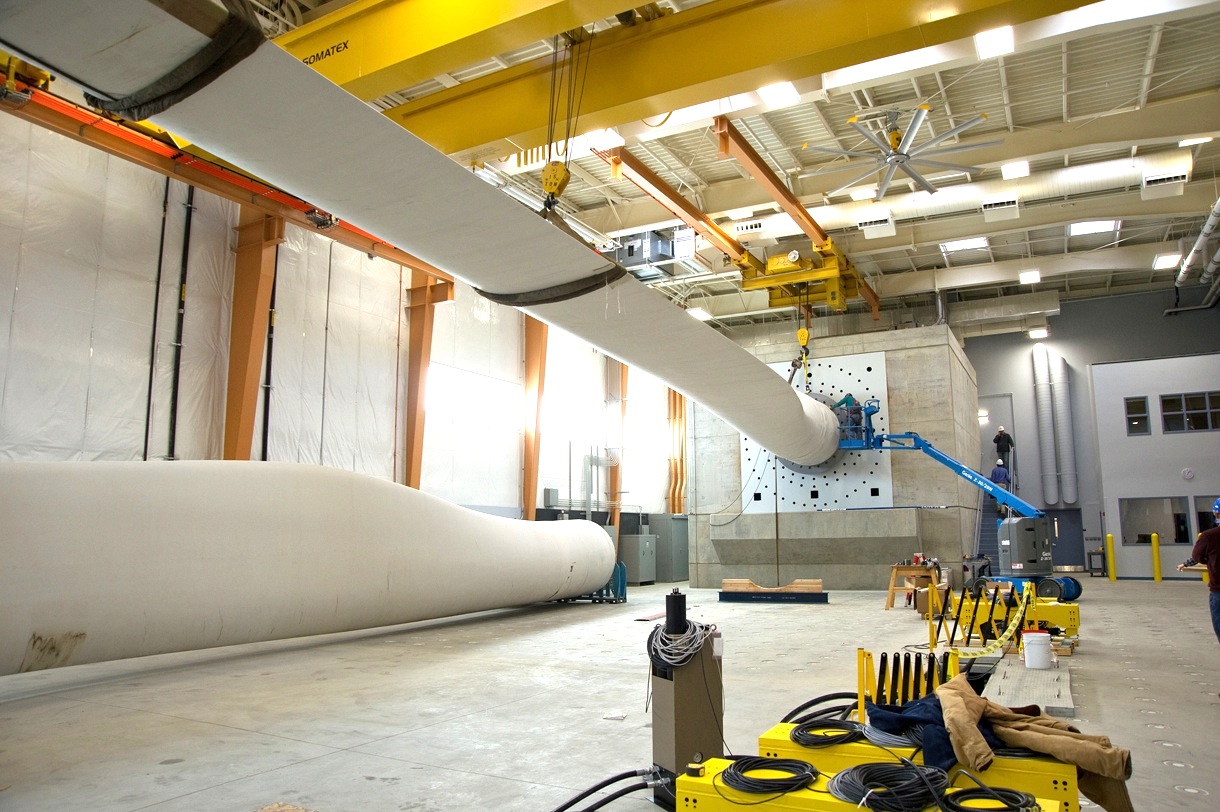 605 sq. meter Strong Floor
Our strong floor accommodates structural testing of blade or other products up to 70 m in length.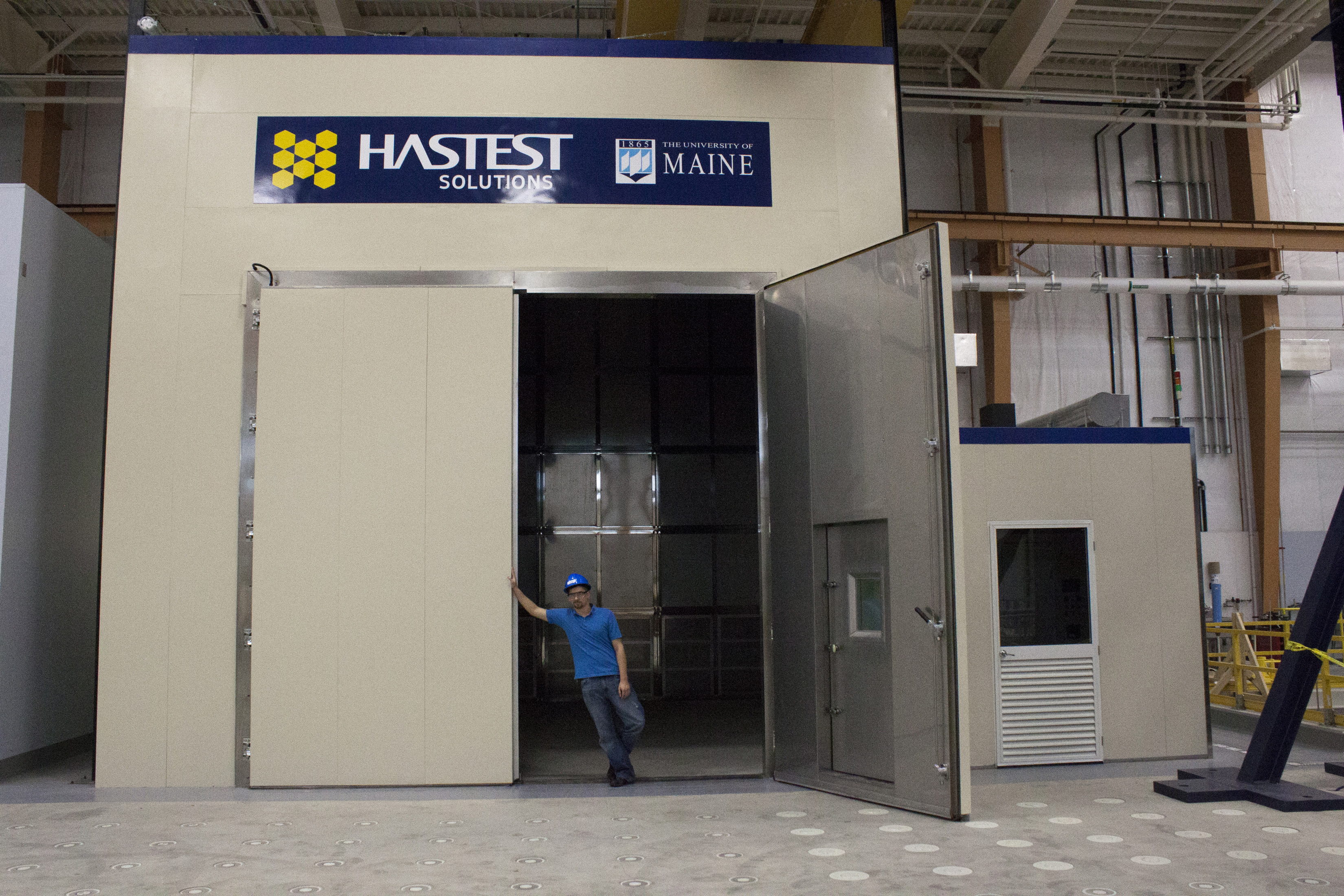 Environmental Test Chamber
Our 300 m3 chamber offers a temperature range of -40 to +50°C relative humidity range 20 to 95%, and ramp rate in thermal cycling ±10°C per hour.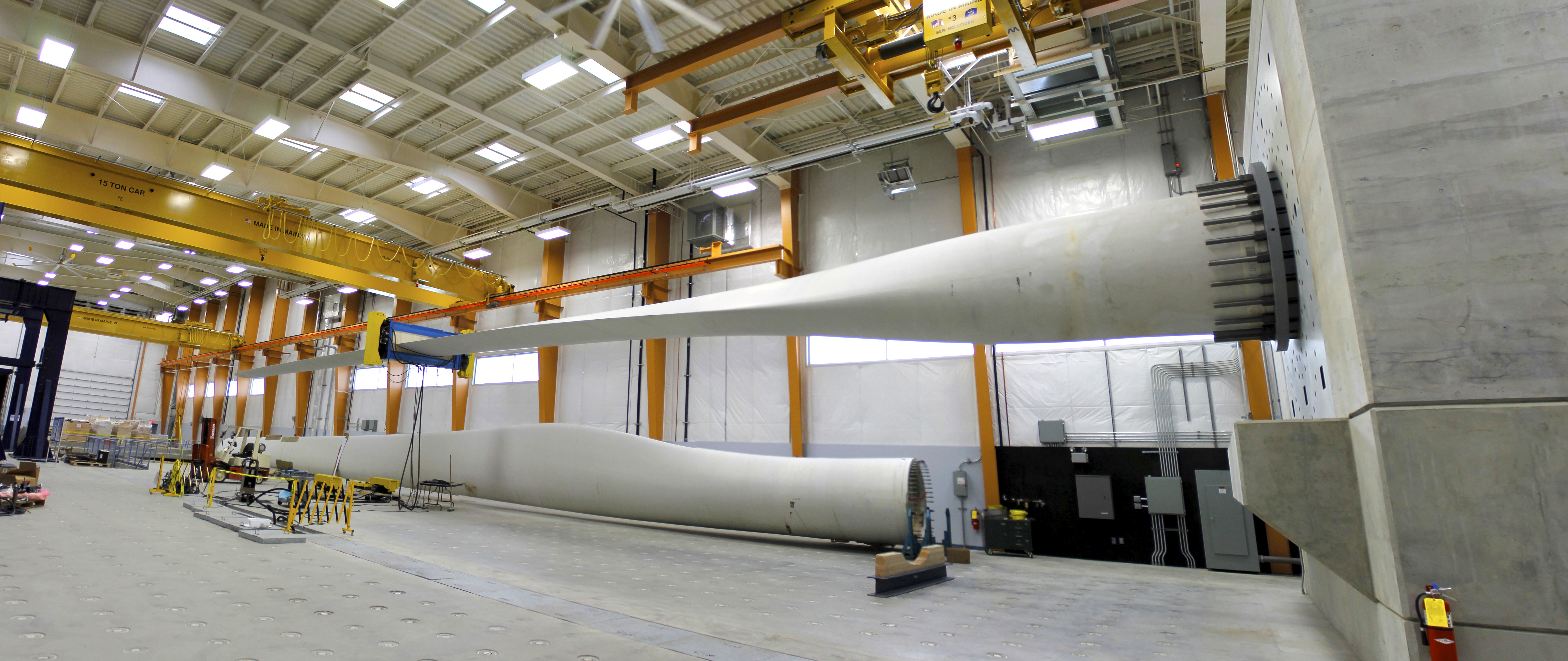 Fatigue testing
with inertial resonance or ground reaction excitation
Additional Equipment
Test Stand
Reinforced concrete test stand capable of testing wind blades, towers, foundations, and other structures up to 230 ft (70 m) in length in both static and fatigue testing modes.
Hastest Solutions Environmental Test Chamber 
Capable of simulating the extreme temperatures and other conditions of offshore environments, this chamber can be outfitted with load frames and actuators to apply loads to your components during testing.
Door opening 4.3 m x 4.25 m high
Temperature range -40 to +50°C
 Uniformity ±3.0°C, constancy ±0.2°C
Relative humidity range 20 to 95%
 Uniformity ±5%, constancy ±2.5%
Ramp rate in thermal cycling ±10°C per hour